Three Rescued After F/V Miss Saturia Sinks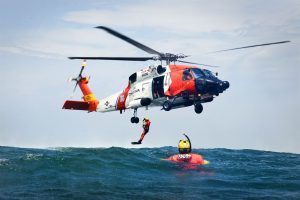 Three Tampa Bay fishermen are glad to be alive after the 32-foot F/V MISS SATURIA sank about 90 miles west of Naples, Florida. Watchstanders in St. Petersburg received mayday calls from an unknown source, then launched a U.S. Coast Guard Air Station Clearwater MH-60 helicopter crew and an HC-144 Ocean Sentry airplane crew to search for survivors.
The Norwegian Pearl and the Rotterdam cruise ships both reported that they heard the mayday calls near their locations. The Norwegian Pearl diverted course to assist in the search. About 40 minutes later, the Coast Guard reported that they had received an alert from an Emergency Position Indicating Radio Beacon registered to the MISS SATURIA. The vessel owner, James Glover, was contacted and reported that three fishermen were out on the vessel.
The U.S. Coast Guard sent an Ocean Sentry airplane crew from Miami to search for the men, then sent a helicopter to complete the rescue after the life raft strobe lights and red flares were spotted at about 4am. The Jayhawk helicopter crew hoisted the fishermen then transferred them to the air station where emergency medical personnel were waiting.
U. S. Coast Guard Lt. Tyler Dewechter praised the crew for their quick action and thorough training.
"They did everything correctly," said Lt. Tyler Dewechter, one of the Jayhawk pilots. "The men were familiar with their safety equipment including strobe lights, EPIRB, flares and the life raft. They knew where the equipment was located, which allowed for our quick response."
58-year-old Terry Britton, 43-year-old Patrick Leoni, and 29-year-old Kyle Haskins were floating in the life raft for approximately two hours before their rescue. No injuries were reported.
April 6th is National 406 Day. This news report reminds us all just how important it is to keep EPIRB registration current.