Fire Aboard F/V Ocean Pearl, Four Rescued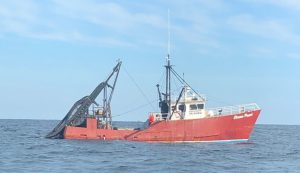 On Saturday, December 8th, the U.S. Coast Guard rescued four crewmembers who abandoned ship after a fire broke out aboard the 75-foot F/V OCEAN PEARL. The vessel was located approximately 16 miles southeast of Cape May, New Jersey at the time of the incident.
Crew members reported that an electrical fire broke out just after 10:30 EST. One of the crew members was able to activate the Emergency Position Indicating Radio Beacon (EPIRB) just before abandoning ship.
According to authorities, a call was made to watchstanders at Coast Guard Sector Delaware Bay's command center using a handheld radio. The Cape May station dispatched two 45-foot Response Boat-Medium crews as well as the 87-foot patrol boat CUTTER CROCODILE.
The four F/V OCEAN PEARL crewmembers donned survival suits and were safely waiting in a life raft when Coast Guard officials arrived. The men were taken aboard one of the Response Boat-Medium vessels, then taken to shore. No injuries were reported.
"In the winter, the marine environment is rougher and colder," said David Umberger, command duty officer at the Sector Delaware Bay command center. "This case might not have had such a good outcome if the captain and crew of the Ocean Pearl hadn't been prepared for an emergency. Keeping a properly-registered EPIRB, well-maintained cold-water survival gear and functioning communications equipment on board your vessel will save your life."
The F/V OCEAN PEARL is currently adrift near the Delaware Bay, as the vessel owner coordinates the salvage of the vessel. The CUTTER CROCODILE crew remains at the scene to monitor the salvage operation.
As winter approaches, all fishermen and crewmembers are urged to make certain that EPIRBs and other safety gear are in proper working order, that every crewmember is properly trained, and that safety procedures are rehearsed. Most accidents at sea can be prevented. Work at sea is inherently dangerous and carries risk, but that risk can be mitigated when proper safety procedures are followed.