Alaska Earthquake Shakes Region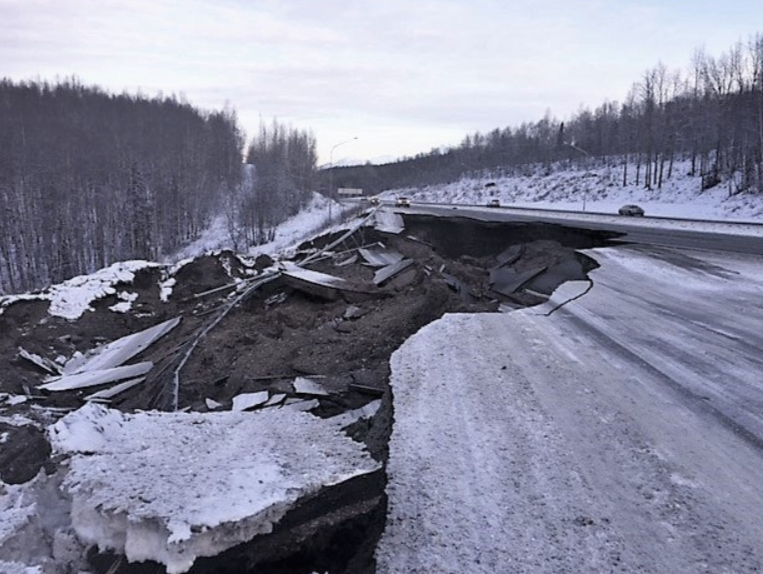 The massive earthquake that rocked Anchorage, Alaska, on Friday, November 30th caused widespread damage to roads, buildings, schools, and homes. Initially, a tsunami warning was issued after the quake, but it was revised and canceled after authorities assessed that there would be no giant wave.
The earth began shaking at approximately 8:29 a.m. about eight miles outside of Anchorage. The jolting quake lasted for about one minute and registered 7.0. Many residents reported that they heard the rumbling sound of the quake just before the shaking began. And everyone agreed, it could have been so much worse.
The few fires that started were extinguished quickly, no large buildings collapsed, and no deaths have been reported resulting from the quake. It is widely believed that updated building code requirements and retrofitting efforts created a safer environment for everyone. At a press conference, Governor Bill Walker stated, "Building codes mean something."
While several roads buckled and became impassible, no bridges or major thoroughfares were out of commission. During this time of year, Anchorage only experiences about six hours of daylight, and snowstorms are common. With such limited light and freezing temperatures, there were worries that emergency crews would not be able to respond when called. That was not the case.
"The Coast Guard Sector Anchorage building located at Joint Base Elmendorf-Richardson in Anchorage sustained some damage," said Capt. Sean MacKenzie, commander, Sector Anchorage and Captain of the Port, Western Alaska. "The good news is that our command center here is fully operational. Coast Guard cutters, stations and air assets in the region did not sustain significant damage. We are 100 percent capable of responding to all of our core missions."
The 1964 Alaska earthquake measured 9.2 and is still on record as the strongest recorded quake in U.S. History. It was known as the Great Alaska earthquake or Good Friday earthquake and is believed to have killed over 100 people either directly related to the quake for from the resulting tsunami. People as far as California and Oregon were among those lost.
Dry-docked vessels are still being inspected for damage, but few casualties have been found. Boats at sea were reported to have been unaffected by the quake, and while vessels at sea sometimes feel earthquakes, we have not interviewed anyone who felt the effects.
Over the weekend, more than 1800 aftershocks occurred. While they were not reported to have caused any more damage, a general feeling of uneasiness was reported among many Alaska residents.