Limitation of Liability in Maritime Law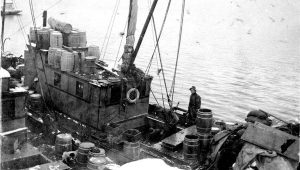 When fishermen or crewmembers are injured or perish in accidents at sea—due to negligence or carelessness by the vessel's owner, another crewmember, captain, or skipper—Jones Act Law requires that the injured party be compensated.
But what happens when vessel owners work to find ways around paying out what wrongfully-injured workers deserve? One strategy owners have tried is an archaic law called the Limitation of Liability Act. This obscure legislation is sometimes called on to limit a vessel owner's liability after a particularly devastating accident in which property or life has been lost.
The act was passed by the U.S. Congress in 1851 (the same year that Moby Dick was published) to protect maritime trades and ship owners from complete financial ruin. However, many legal experts believe that this act is showing its age, and that it comes from a different era with different understandings of risk. The purpose of the act was originally to promote the development of the American merchant marine, which is now fully established.
In the 1850s, vessels were often owned by individuals rather than corporations or conglomerates, as they are today. Older insurance policies were often not substantial enough to pay out to the vessel owner who may have lost their vessel and cargo. Moreover, technology was not available for weather prediction and communication as it is today, and piracy attacks at sea were much more prevalent. In short, the Limitation of Liability Act was originally created to protect the U.S. shipping trade. Under the Limitation Act, vessel owners were allowed to limit their liability to the "post loss value" of the vessel involved in a maritime casualty. The Limitation Act applied, and applies, to "seagoing vessels and . . . all vessels used on lakes or rivers or in inland navigation."
The Limitation of Liability Act is currently disfavored as corporations and individuals we have better ways to mitigate risk than our country did in 1851. However, vessel owners may still try to use this act to limit their exposure to the value of the vessel at the end of the voyage upon which the injury occurred. Where a fishing vessel or ship has sunk, the value of the vessel at the end of the voyage may be virtually worthless, leaving the person who has been killed or injured entitled to little or no damages for their injuries.
An example of an attempt to use the Limitation of Liability Act in recent times involved the sinking of the V/V EL FARO. This vessel navigated directly into a hurricane despite a history of engine failures. Records show that the captain wanted to sail around the storm and may have received pressure to sail directly into the hurricane to save transit time. It is believed that the vessel stalled in the storm and then sank, and all 22 crew members perished in the tragedy.
Defeating Limitation of Liability Act Cases
Experienced maritime lawyers understand the problems with the Limitation of Liability Act and how to defeat it in modern times. However, these cases can be procedurally and factually complex. Where it can be shown that the vessel owner had "privity and knowledge" of an unseaworthy condition, or where the owner participated in the negligent act that caused the injury, or knew, or should have known of acts or omissions leading to the injury, the Limitation of Liability Act can be defeated. Experienced maritime lawyers understand the duties and obligations of a vessel owner. A detailed investigation is frequently needed to defeat the Limitation of Liability Act defense.
You Have Limited Time to Respond to a Limitation of Liability Defense
If you have been injured and received a notice of a Petition for Limitation of Liability by the vessel owner, you should contact an experienced maritime lawyer as soon as possible. There is a limited window of time to answer a Petition for Limitation of Liability and assert your rights to damages. A timely and proper answer must be filed to protect your rights.
Experienced in Handling Limitation of Liability Claims
The maritime lawyers at Stacey & Jacobsen, PLLC have extensive experience in dealing with maritime injury claims involving the Limitation of Liability Act. They have defeated these defenses in cases involving catastrophic injury to crew members, including brain injuries, amputation injuries, and burn injuries. The firm has defeated the Limitation of Liability Act defense in many death claims, including the cases involving the sinking of the fishing vessels ALEUTIAN ENTERPRISE, ARCTIC ROSE, ALASKA RANGER, KATMAI, PACE SETTER, PACIFIC APOLLO, GALAXY, and VESTFJORD. Stacey & Jacobsen, PLLC is available to serve clients throughout the United States on Limitation of Liability Act cases.