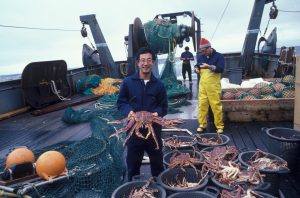 Western Alaska has been hit hard economically by the long-term decline in crab stocks. This year, the Bering Sea snow crab total allowable catch was reduced by 90 percent while the Bristol Bay red king crab fishery has been closed entirely. This week, changes were made to House Bill 41, a bill allowing designated non-profits to grow shellfish in hatcheries, moving the bill closer to becoming a law. HB 41 has now passed the Legislature; next, it will move to Gov. Dunleavy's desk for signing.
This bill would allow for select non-profit organizations to carry out restoration and enhancement projects for specific shellfish species like king crab, sea cucumbers, abalone, and razor clams. Organizations would utilize hatcheries to raise then release shellfish into Alaskan seas in an effort to support and seed commercial fishing in the region.
"HB 41 plays a key role in the building blocks to make mariculture a growing and significant part of the overall Alaska fisheries portfolio," said Dan Ortiz, an independent Alaska representative who originally presented the bill in February, 2021.