Commercial Crab Fishery Closed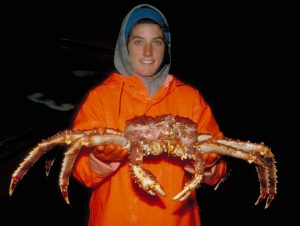 Due to disappointing population surveys once again this year, the commercial harvests of red and blue king crab in Southeast Alaska will remain closed during the 2023–24 season. Stock assessment models have revealed a biomass of just 188,899 pounds, falling short of the 200,000-pound threshold required to authorize the fisheries.
The closure of the fishery, due to insufficient biomass, is not unexpected for those overseeing stocks. Insufficient biomass has prevented the fleet from deploying pots since 2017.
On a positive note, the outlook is promising for the fishery in the upcoming year.
"We are in kind of an uptick," Adam Messmer, lead king and tanner crab biologist with the Alaska Department of Fish and Game in Juneau reported to a local news source. "The number of legal crab (in this year's survey) went up by 9 percent and the mature crab went up by 20 percent. The matures are one molt away from becoming legal."
It is anticipated that the mature crabs from this year will contribute to the overall biomass and lead to the opening of a fishery in the 2024–25 season. As per the regulations, the carapace (the shell on the back of a crab) must measure at least 7 inches across. The fishing season is usually scheduled to begin on October 24th.
During the 2017–18 season, which marked the last year of the open fishery, crabbers successfully brought in a total of 120,000 pounds of red and blue king crab. In that particular season, the ex-vessel prices for crab averaged $10 per pound. To put this into historical context, the fishery reached its peak in 1997, recording a substantial harvest of 429,788 pounds. During that peak year, prices averaged $3.91 per pound. This led to combined earnings totaling approximately $1.7 million for the 81 permit holders.
The announcement to keep the fishery closed for the upcoming season, was made approximately one month earlier than it was last year. "We decided to come out with an advisory for commercial a little earlier so fishermen could plan their fall better," said Messmer, who reported receiving 10 to 15 inquiries per day.
The Regional Information Report, which includes survey data, is typically made public concurrently with the decision and will be released near the end of the month.