Four Rescued After F/V LAURA Runs Aground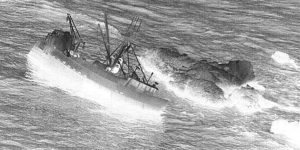 U.S. Coast Guard Sector Anchorage watchstanders received a distress call from the master of the F/V LAURA on Monday, November 1, 2021, after the vessel reportedly ran aground on the shore at Black Rock, on Kodiak Island. It was also reported that the crew was using life rafts to abandon ship.
An Air Station Kodiak C-130 Hercules aircrew and an MH-60 Jayhawk helicopter crew were launched. Thanks to assistance from the good Samaritan F/V STILLWATER, the aircrews were able to quickly locate the fishermen. A Coast Guard helicopter crew deployed a rescue swimmer to hoist the crew-members from the sinking 90-foot F/V LAURA, and safely transported them to Air Station Kodiak.
It cannot be stressed enough how important it is that all crew members have proper safety equipment and training. For more information, read our post regarding the maintenance and testing of immersion suits.
"We want to stress the importance of having proper survival gear on board in case of emergencies," said Lt. Jacob Rettig, an Air Station Kodiak operations duty officer. "In this case, the crew had survival suits, flares, and strobe lights, which aided in locating and rescuing the crew safely and efficiently."
Weather on the scene was reported as 25 mph winds, an air temperature of 39 degrees, and water temperature of 43 degrees.
There is concern that as much as 4,000 gallons of diesel fuel could be onboard the vessel, however there are no reports of pollution at this time. An investigation into the cause of the incident is pending.