Pacific Titan Crew Member Medevaced after Head Injury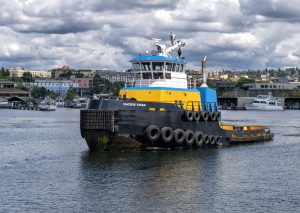 The U.S. Coast Guard Sector Juneau command center received a call on March 21st at approximately 3:40 p.m. from the captain of the towing vessel PACIFIC TITAN. It was reported that during a towing operation, a 30-year-old crewmember had sustained a head injury. The vessel was located near Pennock Island, Alaska at the time of the incident.
A 45-foot Response Boat-Medium crew was dispatched from the U.S. Coast Guard Station Ketchikan and arrived on the scene of the accident at 4:19 p.m. The injured worker was transported to awaiting EMS personnel in Ketchikan, Alaska.
"Good communication with the Pacific Titan and the Station Ketchikan boat crew ensured proper coordination for the medevac," said Coast Guard Search and Rescue Controller David Berg, a civilian watchstander at the Sector Juneau command center. "We were able to conduct the medevac efficiently so the patient could receive a higher level of medical care."
Weather at the time of the rescue was reported as 1-foot seas, 13 miles per hour winds, and 10-mile visibility.
Built in 2000, PACIFIC TITAN is owned and operated by the Western Towboat Company which is located in Seattle, Washington.
Maritime Head Injuries
Under Federal Maritime Law and the Jones Act, employers and vessel owners are required to provide crew members with a safe place to work and a seaworthy vessel. All members of the crew must be properly trained and be given proper and safe equipment to do their jobs. A moment of negligence can quickly lead to a permanent injury. If you are injured through negligence or unseaworthiness, you may be entitled to damages for lost wages, lost wage-earning capacity, disfigurement, rehabilitation costs, pain and suffering, and medical expenses. In nearly every case, an injured crewmember is entitled to maintenance and cure.
The lawyers at Stacey & Jacobsen, PLLC understand how injuries happen at sea and how they impact an individual's ability to earn a living in the future. They know how accidents happen aboard vessels, and they understand how those accidents can be prevented through safe practices. Stacey and Jacobsen, PLLC is one of the most experienced Maritime Law Firms in the nation. If you or a loved one has been injured while working in the maritime industry, call (877) 332-5529 for a free consultation.