Tugboat Samson Mariner Runs Aground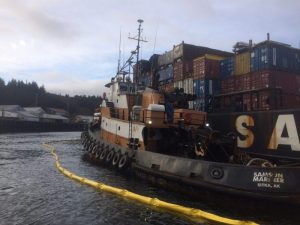 The Coast Guard, working in partnership with several other agencies, continues to respond to the tugboat SAMSON MARINER that ran aground near Rosa Reef in north Tongass Narrows, Alaska. Approximately 1,100 gallons of fuel was spilled before the breach could be patched by Alaska Commercial Divers.
The official report by the Coast Guard indicates that environmental pollution from the breach might have been much higher, as the SAMSON MARINER was carrying 30,000 gallons of fuel on board while the barge was carrying 40,000 gallons of diesel. Thankfully, the barge did not sustain any damage. Southeast Alaska Petroleum Response Organization (SEAPRO) initiated immediate cleansing of the water around the Rosa Reef using a fuel containment and recovery boom as well as absorbent pads.
"We are working closely with our partner agencies to recover as much of the spilled product as possible," said Capt. Shannan Greene, Coast Guard Sector Juneau commander. "When spilled, this type of diesel spreads quickly into thin films forming patches of rainbow and silver sheens. We expect the sheen to break up within the next 12 to 24 hours, with scattered sheens potentially still visible under the low wind conditions forecast for tomorrow. Although not expected to impact sensitive areas or wildlife, we routinely collaborate with National Oceanic and Atmospheric Administration to mitigate these risks."
The grounded tug SAMSON MARINER was refloated and is anchored in Ward Cove for repairs and a safety inspection.  The dry cargo barge it was towing, ST. ELIAS, was also secured at the port. The accident happened during the regular sailing schedule between Seattle and Western Alaska.
Winds were reported as 14 miles per hour with calm seas.