U.S. Coast Guard Rescues 7 from Disabled Tug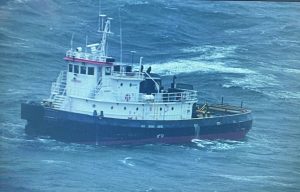 On Saturday January 14th, 2022, The U.S. Coast Guard rescued seven people after a 1,000-foot towing line snapped and the tug they were piloting became disabled. The incident happened about 30 miles off the coast of Ocean City, Maryland at approximately 3:30 a.m.
Crew members aboard the tug LEGACY were towing a 290-foot barge from New Jersey to Guyana at the time of the incident. The 1,000-foot towing line became caught in the starboard propeller. One engine was still functional, and the crew tried to regain control of the barge; however, the line snapped.
One of the LEGACY crew members called the U.S. Coast Guard Sector Maryland-National Capital Region and reported that they were disabled, adrift, and preparing to abandon ship.
The 154-foot Coast Guard Cutter LAWRENCE LAWSON was underway and able to change course to head towards the disabled tug. Rough weather at the scene and the loose tow line lurking below the surface of the water was cause for concern. The cutter was unable to get close enough to the LEGACY to offer assistance.
The U.S. Coast Guard Sector Maryland-National Capitol Region launched an MH-60 Jayhawk crew from Coast Guard Air Station Elizabeth City, North Carolina, and an MH-65 Dolphin helicopter crew from Coast Guard Air Station Atlantic City, New Jersey to assist the LEGACY crew. The LAWRENCE LAWSON remained on the scene to aid responding units and safeguard the wellbeing of the seven crew members. The tug crewmembers were hoisted by helicopter and transferred to the Ocean City Municipal Airport.
The LEGACY emergency position indicating radio beacon (EPIRB) was activated, and the Coast Guard MH-60 deployed a self-locating data marker buoy (SLDMB). Watchstanders will track the barge and tug as they await commercial salvage.