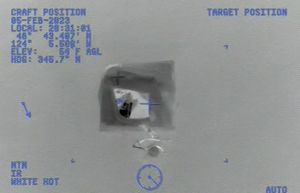 U.S. Coast Guard Watchstanders at the Thirteenth District in Seattle received an Emergency Position Indicating Radio Beacon (EPIRB) transmission from the F/V ETHEL MAY on Sunday, February 5th at approximately 7:30 p.m. The 46-foot crabbing vessel was near the Willapa Bay entrance at the time of the distress transmission.
Watchstanders at Coast Guard Sector Columbia River in Warrenton, Oregon, were also notified that the wife of one of the men aboard the vessel called 911 to report an emergency.
U.S. Coast Guard Air Station Astoria immediately launched a MH-60 Jayhawk helicopter aircrew and U.S. Coast Guard Station Grays Harbor launched a 47-foot Motor Lifeboat and crew.