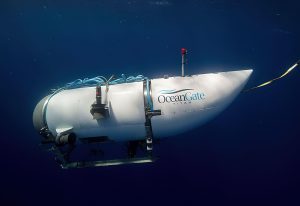 The U.S. Coast Guard has launched an investigation into the "catastrophic implosion" of the privately-owned underwater vessel TITAN. The vessel was destroyed while en route to the wreckage site of the TITANTIC, resulting in the tragic loss of all five individuals on board.
On Sunday, June 18, 2023, the TITAN lost contact with the crew aboard the POLAR PRINCE research vessel after approximately 1 hour and 45 minutes. Following an exhaustive search and rescue operation, the remains of the TITAN submersible were discovered on the ocean floor, about 500 meters away from the bow of the TITANTIC. The loss of the TITAN submersible and its five occupants has prompted the U.S. Coast Guard to assemble a Marine Board of Investigation (MBI).
The MBI is the highest level of investigation within the U.S. Coast Guard. Once the investigation is finalized, the Board will compile a report containing evidence, established facts, conclusions, and recommendations. Captain Jason Neubauer has served as the chief of the Office of Investigations & Analysis at U.S. Coast Guard Headquarters since July 2014. He is responsible for overseeing marine casualty investigations, suspension and revocation cases involving credentialed mariners, violation investigations and data analysis for the U.S. Coast Guard's prevention operations.