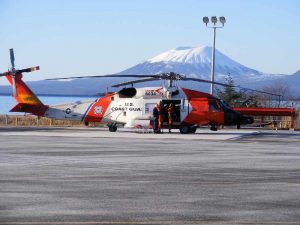 Watchstanders at U. S. Coast Guard Sector Juneau received a report on July 21st at approximately 10:20 a.m that the captain of the processing vessel NORTHWIND had sustained a serious hand injury, possibly severing several fingers. The vessel was located just northeast of Biorka Island at the time of the incident.
The crew aboard the charter fishing vessel NORTH RIVER heard the call for help over VHF channel 16 and noted that they were very close to the NORTHWIND position. The good Samaritan crew responded that they were on their way and would transport the injured captain to shore.
The U. S. Coast Guard was performing a training flight in the area and met the good Samaritan vessel at the shore. They collected the captain then transported him by MH-60 Jayhawk helicopter to the Sitka Fire Department emergency medical team for further treatment.