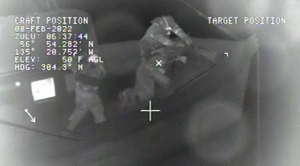 Two fishermen were rescued by the US Coast Guard on Monday February 7th near Sitka, Alaska after the 40-foot F/V GLORY began taking on water.
Sector Juneau Command Center watchstanders received a call from the distressed vessel at about 8 p.m. An Air Station Sitka MH-60 Jayhawk helicopter and crew were launched and directed to the vessel at Islet Passage, approximately nine miles south of Sitka.
The US Coast Guard aircrew lowered a rescue swimmer onto the vessel to evaluate the situation. Crewmembers were unable to locate the source of the flooding, so it was advised that the fishermen abandon ship. US Coast Guard aircrew successfully hoisted the two fishermen at about 9 p.m.