Crewmember Suffers Compound Fracture Aboard F/V Kari Marie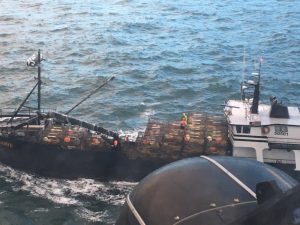 A forward-deployed U.S. Coast Guard Air Station helicopter crew was called to medevac a crewmember on Monday after he suffered a compound fracture while aboard the F/V KARI MARIE. The fishing boat was located approximately 200 miles north of St. Paul, Alaska when the incident occurred.
Watchstanders at District 17 Command Center received notification from the F/V PACIFIC MARINER about the injury, as they were relaying communications on behalf of the F/V KARI MARIE crew. In an effort to provide additional communication coverage, an Air Station Kodiak HC-130 Hercules aircrew was also diverted to assist with the incident.
The crewmember was reported to be in stable condition after he was transported to local emergency medical personnel in St. Paul.
"Being forward-deployed in St. Paul allowed us to significantly reduce the response time to assist this mariner," said Lt. Kevin Riley, the aircraft commander for this case. "We hope he makes a rapid and full recovery."
The F/V KARI MARIE is registered in Bothell, Washington. Weather at the scene was reported as 34 degrees with overcast skies and 4-foot seas.