OPEN LETTER TO SURVIVORS OF ALASKA JURIS SINKING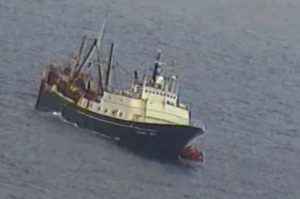 The ALASKA JURIS, a fishing vessel owned by Fishing Company Of Alaska (FCA), started taking on water on July 26, 2016 while fishing off the Aleutian chain of islands. The captain sent out a mayday. The crew donned their survival suits, got into life rafts, and abandoned ship. No other vessel was in sight. After several hours floating in the open sea near Adak, good Samaritan vessels arrived at the scene to rescue the crew.
This is the same fishing company that owned and operated the ALASKA RANGER, a factory trawler that sank in March 2008. Five crew died in that sinking.
We understand FCA and its insurance company are now offering $20,000 to survivors of the ALASKA JURIS to settle any and all claims they may have as a result of the sinking ordeal. The offer comes with a written explanation. FCA and its insurance company compare the sinking of the RANGER to the sinking of the JURIS as justification as to why they are only offering $20,000 to settle.
The crew who decide to settle their claims must understand that FCA and its insurance company will insist that the settling survivors sign a "Release of All Claims." The Release provides that the settling survivor gives up all his/her rights, including all medical care, in exchange for the settlement amount.
Fishermen/seamen, like the survivors of ALASKA JURIS, are entitled to receive all medical care that is required because of the sinking. In addition to physical injuries, FCA and its insurance company are legally obligated to pay for psychological medical treatment. In our experience, survivors of sinkings have often developed post traumatic stress disorder, adjustment disorders, depression, and other mental injuries following a horrifying experience. Also, in our experience, the realization of symptoms of PTSD does not occur until some time after the event.
Our purpose in writing this blog is to simply inform those considering a settlement of their rights as fishermen/seamen. You have the right to obtain medical care. We strongly urge any of the survivors to pursue their legal rights and get medical care if it is needed.