Roger Fitzgerald, National Fisherman Columnist Passes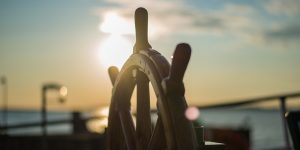 It is with great sadness that we report the passing of Roger Fitzgerald, an 85-year-old maritime writer. He was best known for his column titled "In Search of the Simple Life". His column brought joy and amusement to commercial fishermen spanning from Seattle to the Bering Sea and beyond. The cause of his death was heart failure.
Over the course of 25 years, his writings in the Alaska Fisherman's Journal and National Fisherman chronicled the remarkable transformation within the Alaska fishing industry. This evolution witnessed the shift from traditional wooden boats and iced fish to the advent of state-of-the-art factory trawlers.
Fitzgerald skillfully blended humor and admiration as he showcased a diverse cast of maritime characters. Among them were the Samuelsons and the Knutsens, skilled captains of historic halibut schooners that had been sailing the seas since the 1920s, and Sea Lion Murphy, a seasoned seinerman hailing from Cordova, Alaska.
Fitzgerald, the eldest of four boys, was born on November 24, 1937, into a Navy family. Following his father's return from World War II, the family relocated to Guantanamo, Cuba, a country that held significant memories for Fitzgerald and became a recurring theme in his writing.
At the age of 17, Fitzgerald joined the Navy and was assigned to the USS ARCHERFISH. During his time on the submarine, Fitzgerald made the most of every opportunity to read. This passion for literature led him to pursue a Bachelor's and a Master's degree in English. He later held teaching positions at Vermont Academy and Charles Wright Academy.
He played a pivotal role in establishing three notable trade publications: Alaska Fisherman's Journal, Seafood Leader, and Simply Seafood, a recipe magazine. This endeavor led him on captivating journeys from the Lofoten Islands to Thailand, where he crafted engaging narratives about the art of seafood harvesting, processing, cooking, and commercialization.
He is survived by his son, Michael Fitzgerald, his daughter, Mary Fitzgerald, as well as six grandchildren and a step-grandchild. This firm offers condolences to the family, friends, and readers of Mr. Fitzgerald's work.