Two Fishermen Rescued from Sinking F/V Glory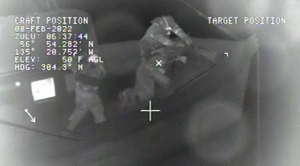 Two fishermen were rescued by the US Coast Guard on Monday February 7th near Sitka, Alaska after the 40-foot F/V GLORY began taking on water.
Sector Juneau Command Center watchstanders received a call from the distressed vessel at about 8 p.m. An Air Station Sitka MH-60 Jayhawk helicopter and crew were launched and directed to the vessel at Islet Passage, approximately nine miles south of Sitka.
The US Coast Guard aircrew lowered a rescue swimmer onto the vessel to evaluate the situation. Crewmembers were unable to locate the source of the flooding, so it was advised that the fishermen abandon ship. US Coast Guard aircrew successfully hoisted the two fishermen at about 9 p.m.
"This successful case highlighted the importance of mariner preparedness," said Lt. Cmdr. Scott Woodcock, the MH-60 Jayhawk helicopter pilot on the case. "The biggest challenge during this rescue was the severe winds, however, the fishermen were well prepared with good communication equipment and survival gear."
Well-maintained survival gear saves lives. This incident again highlights the need for all vessel owners, masters, and captains to test the functionality of survival suits stored on their vessels. Under federal law, it is the duty of the person in charge of the vessel to make sure all lifesaving gear is properly maintained and inspected before each voyage. Read more about proper maintenance and federal laws at Maintain, Inspect, and Test Immersion Suits Today.
Weather at the scene was reported as 5-foot seas, 55 mph wind gusts, and 41 degrees. Watch this remarkable rescue here.