Violations and Safety Concerns Plague F/V Pacific Producer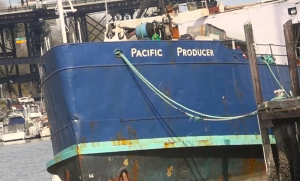 The 77- year-old F/V PACIFIC PRODUCER, which operates in the waters of the Pacific, has recently come under scrutiny due to numerous violations and safety issues. The 169-foot long vessel has been docked in Tacoma on the Foss Waterway since August of 2022, after smashing into a private pier. As concerns over the safety of the men and women who work in the fishing industry mount, it is crucial to shed light on the alleged wrongdoings surrounding this vessel. Accountability and improved practices within the fishing industry are imperative.
Labor Issues
A joint investigation by OSHA and the U.S. Coast Guard found the crew living in deplorable conditions while working for an operator with a history of workplace violations. The F/V PACIFIC PRODUCER has been implicated in labor violations. Several crew members have come forward, alleging harsh working conditions, long hours, inadequate safety measures, and unfair wages. These reports highlight the exploitation faced by workers onboard the vessel.
Safety Hazards and Maritime Regulations
The F/V PACIFIC PRODUCER has also faced scrutiny for safety hazards and non-compliance with maritime regulations. Safety is of paramount importance in any industry, but it becomes even more critical in the challenging and unpredictable maritime environment. Reports suggest that the vessel has neglected to maintain proper safety equipment, failed to conduct regular safety drills, and violated safety protocols outlined by international maritime organizations. It was reported that the crew was exposed to electrical hazards throughout the vessel, such as improperly installed electrical equipment, broken outlets, outlets near water, ungrounded extension cords, and exposed wiring. It has also been reported that the F/V PACIFIC PRODUCER lacked a suitable fire suppression system. Such negligence jeopardizes the lives of crew members and increases the likelihood of accidents and injuries at sea.
On January 12, 2023, the ship's operator, East West Seafoods, and owner Christos Tsabouris were cited for 20 violations with $208,983 in proposed penalties. These are just the recent violations by East West Seafoods. In 2012, 2014, and 2018, OSHA found similar violations as well as a lack of lockout/tagout, machine-guarding, and fall protection. In 2018, the vessel was found to have had an ammonia leak.
In 2017, the Justice Department discovered that the operator intentionally discharged 1,000 gallons of raw sewage and oily bilge water into Chiniak Bay, about three miles south of the Alaskan coast. After the U.S. Coast Guard found that the company had falsified records, a federal court sentenced East West Seafoods and Mr. Tsabouris to five years of probation and $50,000 in fines.
For more than a decade, inspectors have found dangerous conditions aboard the F/V PACIFIC PROCESSOR, and the well-being of crews aboard the vessel are at "great risk because of its owner's failures," said OSHA's Jack A. Rector in a statement.
Addressing these issues requires collaboration between governments, international organizations, conservation groups, and industry stakeholders. Strict enforcement of fishing regulations, improved labor standards, enhanced safety measures, and the adoption of sustainable fishing practices are essential to mitigate the negative impacts associated with these types of vessels. By holding violators accountable and fostering responsible fishing practices, we can strive toward a safer work environment for the people who work at sea.
Maritime law is in place to ensure that injured workers have a way to recover damages from the responsible party when injuries are due to negligence, neglect, improper procedures, faulty equipment, or unseaworthiness. It is imperative that you retain legal representation if you feel any of your rights have been ignored or violated. Contact Stacey and Jacobsen, PLLC today for a free and fair consultation and assessment of your case.