17 Killed in Duck Boat Sinking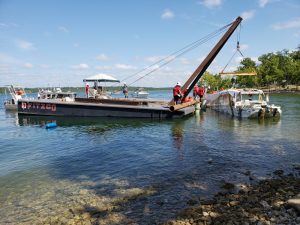 In what may be the greatest loss of life in the history of the Ride the Ducks tourism program, 17 people, including five children, were killed when a duck boat sank on Table Rock Lake in Branson, Missouri on Thursday, July 19th. The duck boat was carrying 29 tourists and two crewmembers when it flipped over during a severe storm. Survivors were taken to Cox Medical Center in Branson, Missouri for treatment.
Of the seventeen who died, more than half were members of the Coleman family of Indianapolis, Indiana. Tia Coleman survived the accident, but tragically lost her three children, husband, and five other family members.
History and Ownership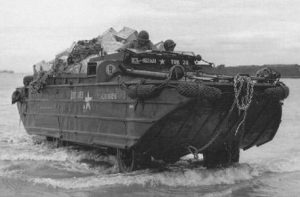 Duck vessels were originally manufactured in the 1940s and used to transport troops and supplies over land and water. Duck boats were made famous in their use during the invasion of Normandy in 1944. There are now approximately 130 duck boats operating in cities all around the U.S including Branson, Baltimore, Seattle, Boston, San Diego, Honolulu, and Memphis.
Ride the Ducks Branson is an operation owned by Ripley Entertainment, which is an entertainment holding company owned by The Jim Pattison Group of Vancouver, British Columbia, Canada. The Jim Pattison Group is the largest privately held company in Canada, with annual sales of over $10 billion. The holding company is made up of individual automotive, advertising, media, agricultural equipment, food and beverage, entertainment, exporting, financial services, real estate, and various publishing companies. The Jim Pattison Group operates primarily in the United States and Canada.
Weather at the Scene
Approximately eight hours before the vessel sank, the National Weather Service issued a "Severe Thunderstorm Watch" for the Branson area that included Table Rock Lake. Meteorologists reported a top wind speed of 63 mph at the Branson Airport, however, winds were likely stronger over the lake. Jim Pattison Jr., the president of the Ride the Ducks holding company, is said to have told the media that the storm "came out of nowhere".
Duck Boat Regulations and Safety
Because these duck boat vessels run on water and land, they are regulated by both the U.S. Coast Guard and the National Highway Traffic Safety Administration. This can be problematic as the rules on land are different from those on water. For example, passengers are required to wear seat belts while the vehicle is traveling on land but not required when traveling on water. The U.S. Coast Guard requires that all passengers wear life jackets while on the water, but life jackets are not required while a vessel is on land. It has been noted that wearing a life jacket during a sinking could cause a passenger to become trapped under the vessel canopy. In the past, it has been recommended that the canopies be removed. These were not standard on the original vehicles but were added later when the vessels were repurposed for tourism.
There have been many reports that these amphibious vehicles are dangerous by design because the long bow creates a blind spot. Drivers are seated 10 to 12 feet behind the bow, making it difficult to see small vehicles and pedestrians in front of or below the vehicle.
Other Duck Boat Tragedies
There have been many deadly accidents involving duck boats around the nation, leading many critics, including former NTSB chairman Jim Hall, to call for a ban of the amphibious vessels.
Hot Springs, AR: 13 people died when a duck boat carrying 21 people sank on Lake Hamilton in Arkansas.
Seattle, WA: In 2015, five college students were killed and 69 injured when the axel of a duck boat broke. The duck driver lost control of the vessel, which collided with a bus that was traveling in an oncoming lane of traffic.
Philadelphia, PA: Tours were suspended indefinitely after three people were killed in two separate crashes. The franchise owner reported that his insurance premiums rose over 300% after the deaths.
Boston, MA: New safety regulations were adopted when a duck boat hit and killed 28-year-old Allison Warmuth. Her parents were successful in getting new safety laws passed that require all duck boats to be fitted with blind spot cameras and proximity sensors. New regulations also require that two employees work on each tour, one as a driver, the other as a narrator/guide. Duck boat operators may not talk and drive at the same time.
National Transportation Safety Board Investigation
According to the U.S. Coast Guard, the vessel was removed from the water, and transported via flatbed trailer under law enforcement escort to a secure location where the National Transportation Safety Board will take custody of the vessel and conduct a thorough investigation.
"The outpouring of support by the City of Branson and members of this community is truly heartwarming and speaks to the character of Branson," said Capt. Scott Stoermer, commander of Coast Guard Sector Upper Mississippi River. "We are extremely grateful to Showboat Branson Belle and their employees for graciously allowing us to use their facilities as our base of operations over the past few days. The tremendous cooperation and professionalism from everyone involved, especially the Missouri State Highway Patrol, allowed us to quickly and safely complete salvage operations so we may continue to focus on investigations and understanding all the factors that led to this tragedy."
The victims have been reported as Arya Coleman (1), Maxwell Coleman (2), Evan Coleman (7), Reece Coleman (9), Lance Smith (15), Glenn Coleman (40), Angela Coleman (45), Steve Smith (53), Janice Bright (63), Belinda Coleman (69), Ervin Coleman (76), Horace Coleman (70), William Asher (69), Rosemarie Hamann (68), William Bright (65), Bob Williams (73), and Leslie Dennison (64).
All the people at Stacey and Jacobsen send our thoughts and prayers to the families and friends of the deceased and all who knew them. This accident could have been avoided and never should have happened. We sincerely hope that lawmakers and business owners will act immediately so that a tragedy like this never happens again.