2023 Seattle Fishermen's Memorial Service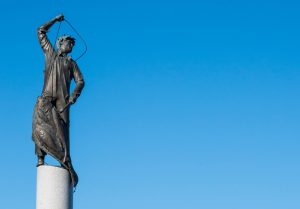 The 2023 Fishermen's Memorial Service will be held on Sunday, May 7th at 2 p.m. at Fishermen's Terminal. Please mark your calendar for this special event to honor those who have been lost at sea.
The Seattle Fishermen's Memorial is a charitable organization dedicated to promoting safety in the fishing fleets and easing the emotional pain and financial burden of education for surviving family members of fishermen lost at sea. Professional grief support is available to grieving families.
This event is an opportunity for the community to gather for a dedication, remembrances, and the installation of tiles at the Memory Wall.
The Seattle Fishermen's Memorial is a beautiful monument that was designed by sculpture artist Ronald Petty in 1987. The monument was dedicated in 1988, and honors Seattle fishermen and women who have died at sea since 1900. The bronze and stone sculpture includes tiles which are inscribed with the names of more than 675 lost at sea.
The organization manages an Educational Scholarship Fund to help the dependents of those who have been lost. Scholarships can be used to pay for vocational and technical training as well as college and university tuition, and some special education needs. Learn more about scholarships, how to donate, or  how to apply at https://www.seattlefishermensmemorial.org/1123/memorial-fund-scholarship.html
For more information about the event and the many wonderful ways this organization helps families in distress, visit https://www.seattlefishermensmemorial.org.