Fire Aboard Trident Seafoods F/V Kodiak Enterprise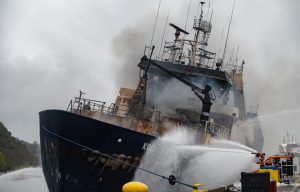 The 276-foot F/V KODIAK ENTERPRISE caught fire early Saturday morning April 8th while moored at Trident Seafoods in the Tacoma Hylebos Waterway. The vessel was still burning as of Monday, April 10th.  The U.S. Coast Guard, The Tacoma Fire Department, the Washington Department of Ecology, the Environmental Protection Agency, and several other agencies have responded to this incident.
It is reported that the fire spread throughout the ship, which authorities believe has an estimated 19,000 pounds of freon and 55,000 gallons of diesel onboard. It was reported that the fire had progressed to within 100 feet of the freon tanks.
These vessel freon tanks are designed with pressure sensitive valves that release gas in emergency situations, such as overheating. Freon gas can be toxic in confined spaces or when inhaled in large quantities, but the release of the gas into the atmosphere isn't expected to put the public at risk.
Tacoma Fire Department personnel have been continuously spraying water on the vessel hull in an effort to cool the boat. The F/V KODIAK ENTERPRISE is listing to the port side, so dewatering will continue until the vessel has stabilized. Divers have also inspected the hull.
The EPA has been monitoring air quality in the area. After a temporary shelter-in-place order, conditions improved, and the order was lifted on Monday at 6:40 a.m.
As of this post, the Hylebos Waterway is closed to all recreational and commercial vessel traffic. The U.S. Coast Guard has deployed the OSPREY to enforce this closure.
"The safety of the public and responders is our top priority," said Coast Guard Capt. Youngmee Moon, the Federal on Scene Coordinator. "The unified command is working closely to leverage each agency's capabilities to respond to this incident as effectively as possible and keep the public safe."
The EPA and private contractors from the Center for Toxicology and Environmental Health are monitoring air quality and checking for air pollutants such as sulfur dioxide and carbon monoxide, which can pose health risks.
Currently, there are no reports of a spill or oil sheen on the water. As a precaution, responders have deployed 3 layers of containment boom around the vessel. Responders have equipment ready and staged in case marine pollution is observed.
"We want to thank everyone for their prompt response and support," said Joe Bundrant, CEO of Trident Seafoods. "This has been a challenging containment issue and we appreciate the ongoing efforts over this Easter weekend."
The cause of the fire is under investigation.