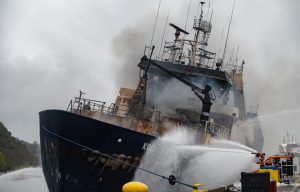 The 276-foot F/V KODIAK ENTERPRISE caught fire early Saturday morning April 8th while moored at Trident Seafoods in the Tacoma Hylebos Waterway. The vessel was still burning as of Monday, April 10th.  The U.S. Coast Guard, The Tacoma Fire Department, the Washington Department of Ecology, the Environmental Protection Agency, and several other agencies have responded to this incident.
It is reported that the fire spread throughout the ship, which authorities believe has an estimated 19,000 pounds of freon and 55,000 gallons of diesel onboard. It was reported that the fire had progressed to within 100 feet of the freon tanks.
These vessel freon tanks are designed with pressure sensitive valves that release gas in emergency situations, such as overheating. Freon gas can be toxic in confined spaces or when inhaled in large quantities, but the release of the gas into the atmosphere isn't expected to put the public at risk.