Alaska Fishing Season Begins Amidst COVID-19 Pandemic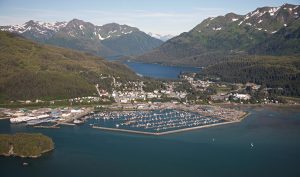 Salmon fishing season is about to begin, but nothing is business as usual this year. In just a few weeks, about 400 fishermen and processing workers will arrive in Cordova, Alaska for the opening of King Salmon and Copper River Sockeye season. The town of Cordova has a full-time population of 2,100. With no road access, Cordova has no confirmed cases of COVID-19 at the time of this post, and while most members of the community support workers arriving for the harvest (showers and bathrooms at the community center have been repurposed to serve the influx of workers), they also want to see that quarantine recommendations and other safe practices are maintained.
No one wants a repeat of the cruise industry crisis or infamous meat-packing industry outbreaks that have recently been in the news. The spread of COVID-19 in the South Dakota Smithfield Foods pork plant has been linked to over 640 cases of the virus, and 51 cases at the Tyson Foods meat-packing plant in Pasco, Washington. These are essential businesses that failed, for a variety of reasons, to keep their workers safe.
Trident Seafoods has reported that four processing plant employees have tested positive for COVID-19 as well as two office workers. Five have recovered and one is still at home convalescing as of April 20. The company is checking employees for fever daily and furthering their sanitation efforts. In response, Trident Seafood is requiring workers to quarantine for 14 days before boarding fishing and processing vessels. Many have checked into hotels and are being monitored by healthcare workers before going to sea. Although it may seem extreme, the precautions are an indication of how seriously the fishing industry is taking this public health crisis. The companies involved are acutely aware that an outbreak aboard a vessel at sea would be disastrous.
If the industry is to keep this devastating virus from spreading to local community members, residents, and workers, it is imperative that crewmembers follow company mandates, such as a two-week quarantine before boarding a vessel, and the agreement that those who leave a ship during the fishing season may not come back aboard. Close quarters, such as sleeping bunks on vessels and bunkhouses at shoreside processing plants, mean that should this virus take hold, it could become a serious health crisis.
Healthcare authorities understand a great deal about COVID-19, and we can mitigate the risk of the spread. Physical distancing, proper testing, disinfecting, handwashing, and protective gear such as clean masks and gloves are essential if workers are to stay healthy. The Centers for Disease Control and Prevention now recommends wearing cloth face coverings in any public space to help slow the spread of this devastating disease. Vessel owners and skippers have an obligation to keep workers safe and well. While many companies and vessel owners are instigating the recommended protective gear, testing, and 14-day quarantine for workers, not all owners and fishermen are on board with this protocol. Many seek to strike a balance between safety and going to work. This has always been the debate among fishermen at sea.
By early July, the Bristol Bay region will play host to approximately 12,000 processors and fishermen who will come from all over the US to work. Most will be coming from the West Coast, areas already hit hard by COVID-19.
Can COVID-19 Make a Vessel Unseaworthy?
Should a crewmember contract the virus while he/she is working aboard a vessel, the illness could constitute an "unseaworthy" condition for the entire vessel, meaning that the condition of workers reflects on the entire crew. Poor sanitation, lack of quarantining, lack of testing and screening, deficiencies in proper training, and lack of necessary supplies could all lead to a viable claim of unseaworthiness that impacts the entire vessel. If a worker falls ill due to an employer's lax treatment of safety aboard the vessel, this may also constitute "unseaworthiness". Failure by the employer to notify crewmembers about the known existence of an infected crewmember can put workers in an unsafe or unseaworthy environment.
Maintenance and Cure
What if fishermen, processors, or crewmembers become ill while working at sea? Maritime law is on their side, as well as best-practices for the care and well-being of fishing industry workers. It is an employer's responsibility to provide maintenance and cure as it relates to the treatment of a disease such as COVID-19. All costs and medical care related to treatment, including sequestration, quarantine, and potential repatriation, must continue until maximum medical improvement has been achieved. In the event of a relapse or complications related to the COVID-19 virus, the obligation by the employer must be renewed. Again, medical treatment is required until maximum medical improvement, and the injured worker is entitled to choose their own doctors.
If you have a question about a COVID-19 case or need the experienced advice of a maritime lawyer, please contact us for a free consultation.