Cruise Ship Viking Sky Loses Power, 479 Passengers Airlifted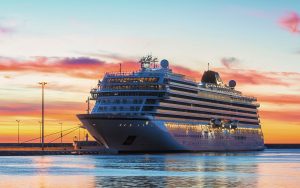 Rocky seas can be a nuisance for cruise ship passengers, but when the weather turns stormy with high seas, that inconvenience can quickly turn into real danger for passengers and crew. That is exactly what happened this week as the cruise ship VIKING SKY experienced extreme weather and complete engine failure, then began drifting towards the shore.
The VIKING SKY was carrying 1373 passengers and crew members as it sailed towards Stavanger, Norway. Engines went out in a particularly rough patch of sea, and a mayday call was issued just before the crew managed to drop anchor in Hustadvika Bay.
Five helicopters were sent to the scene and began evacuating people, one at a time, as the ship was tossed around by 26-foot seas and 43 mph wind gusts. It was reported that the crew was ready with lifeboats for a complete evacuation, but the heavy seas made lifeboat evacuations impossible.
Over many hours, 479 people were airlifted, one at a time, off the ship. It wasn't until dark that the airlifts stopped. It was reported that sixteen people were taken to a local hospital; three suffering from serious injuries, and one in critical but stable condition. The Coast Guard estimated that the vessel was very close to disaster when one engine was finally restarted. The VIKING SKY was able to limp to port in Molde with the remaining passengers and crew, accompanied by several tugboats. The vessel will remain in Molde to undergo repairs. Her next scheduled voyage, a cruise through Tilbury, German, and Scandinavia, has been canceled.
"It was very nearly a disaster. The ship drifted to within 100 meters of running aground before they were able to restart one of the engines," stated police chief Hans Vik, who heads the Joint Rescue Coordination Centre for southern Norway.
Norwegian authorities have opened an investigation into the incident. Storm warnings were issued, and Norwegian ferry captains observed those warnings by waiting out the storm in Trondheim and Bergen. Why the VIKING SKY crew chose to continue in such bad weather will be investigated.
"The high risk which the ship, its passengers and crew were exposed to made us decide to investigate the incident," said Dag S. Liseth of Norway's Accident Investigations Board.