F/V Devotion Crewmember Suffers Head Injury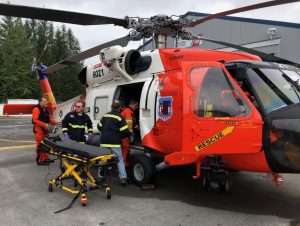 A crewmember aboard the F/V DEVOTION sustained a head injury on Saturday, August 4th approximately 34 miles southwest of Cordova, Alaska.  It was reported that following the injury,  the 51-year-old fell and required immediate medical attention.
Watchstanders received a relay call from the charter vessel Dan Ryan requesting assistance in the form of a medevac. After a consultation with the Coast Guard duty flight surgeon, it was confirmed that the crewmember did indeed need immediate medical attention. A Coast Guard Air Station Kodiak MH-60 Jayhawk aircrew responded to the call and delivered the crewmember to awaiting medical personnel.
"When we arrived to the scene, the fishing vessel was tied up to an offshore supply vessel, which made for a unique hoist," said Lt. Joe Chevalier, a Jayhawk pilot during the medevac. "Through the coordination of the duty flight surgeon, Sector Anchorage Watchstanders and the Devotion crew, we were able to get the man to higher level care quickly."
Head and brain injuries are complex, and no two are exactly alike. These types of injuries can impact physical, emotional, psychological, and neuro-cognitive processing. Individuals can also suffer memory loss, vision disturbances, balance disorders, and depression. Lost time at work and loss of livelihood can be devastating for workers and their families. If you have suffered a head or brain injury while working at sea, it is imperative that you know your rights.  The lawyers at Stacey and Jacobsen understand these types of injuries and can work with you to protect your rights.