F/V Soulmate Crewmembers Rescued by U. S. Coast Guard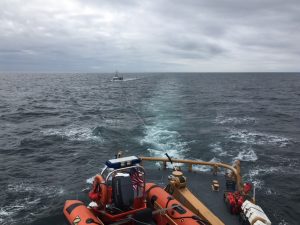 Four mariners required a U. S. Coast Guard rescue when their 48-foot F/V Soulmate became disabled, adrift, and unable to anchor. Watchstanders received the initial distress call from the vessel via VHF radio, but reception was so unreliable that the use of a satellite phone was required.
"This case highlights the importance of having multiple means of communications," said Petty Officer 1st Class Michael Taylor, a Sector Anchorage watchstander. "The availability of both a VHF radio and a satellite phone on board the vessel allowed for consistent communication with the master providing up to date information and situational reports."
The crew of the Coast Guard Cutter Naushon responded to the disabled fishing vessel, located about 57 miles west of Kodiak Island and just south of Shelikof Strait. The Coast Guard Naushon crew towed the four crewmembers of the F/V Soulmate to the south side of Kodiak Island. The mariners took refuge at the Lazy Bay cannery in Alitak Bay.
Weather at the scene was 11.5-mile visibility with 15-mph winds.