F/V Vaerdal Crewmember Medevaced after Suffering Chest Pains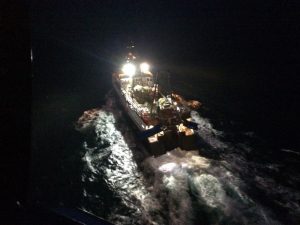 Once again, forward deployed assets were able to quickly and efficiently respond to a member of the maritime community in need of medical assistance.
Alaska Maritime Physicians relayed the message to watchstanders at Coast Guard 17th District Command Center in Juneau, that a man aboard the F/V VAERDAL was suffering from chest pains. The duty flight surgeon was briefed and requested a helicopter crew.
A forward deployed Coast Guard Air Station Kodiak MH-65 Dolphin helicopter crew, aboard the Coast Guard Cutter John Midgett, medevaced the man from the vessel, which was located approximately 70 miles north of Cold Bay. He was then transported to awaiting medical personnel.
"This case demonstrates the importance of having helicopters deployed onboard cutters patrolling Alaskan waters," said Chief Warrant Officer Joseph Ayd, command duty officer for the case. "Affecting timely response to medevacs and search and rescue is why we deploy a major cutter to the Bering Sea."
At the time of the hoist, winds on the scene were reported at 25 miles per hour.