Hand Injury Aboard F/V Ocean Rover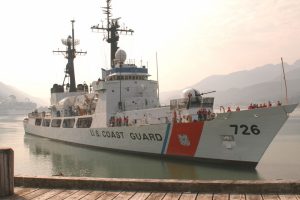 Hand injuries can be devastating and sometimes career-ending for people who work at sea. Medical attention must be secured quickly after an injury for the best outcome. On Sunday, March 3rd, the U.S. Coast Guard medevaced a 57-year-old male after he sustained a hand injury while working aboard the F/V OCEAN ROVER.
Watchstanders at Coast Guard 17th District Command Center in Juneau, Alaska received a call from Health Force Partners that a crewmember had suffered an injury and required medical attention. The Coast Guard Duty flight surgeon recommended a medevac, and an MH-65 Dolphin helicopter crew aboard the Cutter John Midgett hoisted the man from the F/V OCEAN ROVER. He was flown to Cold Bay then taken to Alaska Regional Hospital in Anchorage for treatment.
"This same helicopter crew has now conducted four medevacs over the past week in the vicinity of Cold Bay," said Chief Petty Officer Michael Haselden, command duty officer for the case. "Having this helicopter crew deployed in the Bering Sea with Coast Guard Cutter John Midgett was a strategy that paid off tremendously for the fishing fleet. The cutter crew has worked tirelessly to support the helicopter crew, providing opportunities to land and refuel as necessary."
The 210-foot fishing vessel was located approximately 65 miles northwest of Cold Bay, Alaska at the time of the accident. Weather on the scene was reported as 6-8 foot seas and 20-30 mph winds.
The Jones Act and Federal Maritime Law provide protection and benefits to crewmembers who have been injured while working at sea. The lawyers at Stacey and Jacobson understand how hand injuries happen and how they can be avoided. If you or a loved one has been injured while working at sea, contact us today for a free consultation.