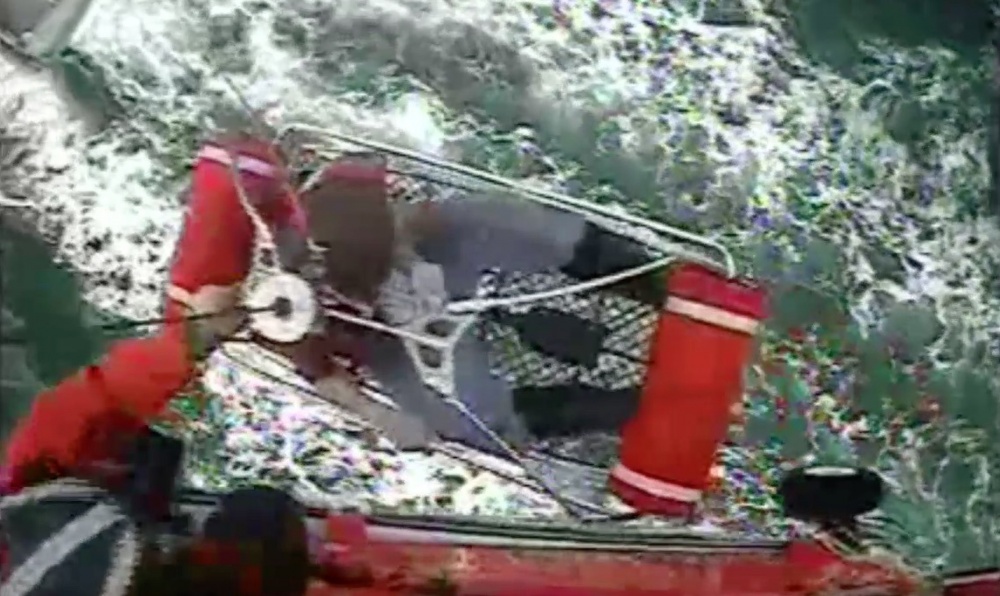 The U.S. Coast Guard recently responded to a call from the 36-foot fishing vessel, Lacie Belle, that a crewmember was suffering from seizures. The call came in at 5:25 p.m. and by 5:54 p.m. an MH-65 Dolphin helicopter from Sector North Bend was on the scene, approximately 10 miles north of Cape Blanco.
The Coast Guard sent a rescue swimmer down to assess the crewmember and determined that the man needed immediate medical attention. A basket was sent down to the fishing vessel and the crewmember was hoisted to the waiting helicopter (watch the heroic video). The crewmember was successfully airlifted to medical personnel at the Bay Area Hospital in Coos Bay, Oregon by 6:28 p.m.
Seizures can happen anytime or any place, but when they occur on a fishing vessel, it is even more important for crewmembers to know how to respond. While there are many types of seizures, most people are familiar with the generalized tonic-clonic seizure, also known as a grand mal seizure, in which a person, falls, shakes, jerks, and cries out. If this happens while at sea, a crewmember must take charge and do the following:
Ease the crewmember to the deck or floor.
Turn the crewmember gently onto their side to ease breathing.
Clear anything sharp or hard from the immediate area to prevent injury.
Put something soft, like a folded jacket, under the head.
Remove glasses, goggles, or any gear from the face and head.
Loosen ties or anything around the neck that may make it hard to breathe.
Stay with the crewmember until the seizure ends and he or she is fully conscious.
After the seizure is over, help the crewmember to a safe and quiet place.
Once they are alert and able to communicate, tell them very simply what happened.
Check to see if the crewmember is wearing a medical bracelet or other emergency information.
Time the seizure. Seizures that last for more than 5 minutes require immediate medical attention.
Call watchstanders with this information and ask for guidance.
Knowing what NOT to do is also important for keeping a person safe during or after a seizure.
Do not hold a crewmember down or try to stop their movements.
Do not put anything in the person's mouth. This can cause injury to teeth and gums.
Do not try to give mouth-to-mouth resuscitation or CPR. People usually begin breathing normally after a seizure.
Do not offer the person water or food until he or she is fully alert.
Review these guidelines with your crew so everyone knows how to respond. And don't be afraid to contact the Coast Guard if you are unsure about what to do. While command center personnel are not able to assess and offer medical advice, they are able to contact the duty flight surgeon. This member of the Coast Guard organization can ask the right questions and give crucial advice to crewmembers when there is a medical situation aboard a fishing vessel.