Two Rescued After F/V Fearless II Drifts into Rocks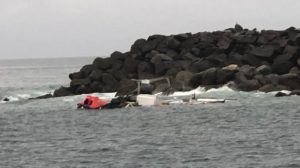 Two people were rescued by the U.S. Coast Guard on Sunday, September 22nd after the 54-foot fishing vessel they were navigating became disabled after striking a submerged object. The F/V FEARLESS II subsequently drifted into the rocks near the Coos River entrance. Watchstanders at Sector North Bend received the distress call over VHF-FM radio channel 16 at approximately 12:52am.
The crewmembers climbed onto the rocks after being forced to abandon ship. An MH-65 Dolphin helicopter aircrew and a 47-foot Motor Lifeboat crew were dispatched from the U.S. Coast Guard Station Coos Bay and hoisted the two people from the jetty. They were transported to the air station and awaiting emergency medical personnel. One crewmember was uninjured while the other sustained abrasions and lacerations during the incident.
Salvage and debris cleanup from the vessel wreckage will be ongoing and challenging due to the precarious position of the F/V FEARLESS II among the rocks. The vessel belonged to the late Josh Porter, who lost his life along with two other crewmembers last January in the devastating F/V MARY B II accident off Newport. The F/V FEARLESS II was reportedly being brought back to Oregon to be sold.
Access by vessels to the Coos Bay port requires crossing the Coos Bay bar, an area where the deep waters of the Pacific Ocean connect to the shallow waters near the mouth of the river. The crossing is known to be so treacherous, that the State of Oregon has published a document to assist boaters and fishermen navigate the bar safely. Prior to crossing, the U.S. Coast Guard recommends checking with other boaters in the area to determine the conditions of the bar. Officials also offer these guidelines for all crossings:
• Everybody aboard the vessel should be wearing a personal flotation device (PFD).
• The vessel should be kept square before the seas.
• Keep the vessel on the back of a swell. Ride the swell and stay clear of the following wave.
• Always be aware of the stage of the tide. Getting caught on the bar during a strong ebb current is extremely dangerous. Even on days that are relatively calm, a fast-moving ebb may create bar conditions that are too rough for crossing.
Officials have determined that access to Coos Bay be could be improved by deepening the channel to 45 feet. A task force has been established to further investigate this option.