U.S. Coast Guard to Secure Arctic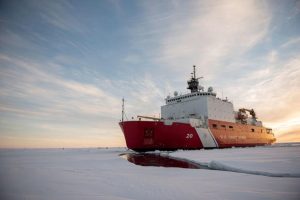 The U.S. Coast Guard recently released the new Arctic Strategic Outlook with a focus on leadership and innovation in the changing landscape of our nation. At a symposium in Seattle, Washington, the area commander discussed the new document and the role that the U.S. Coast Guard must take in the future. Keynote speaker Vice Adm. Linda Fagan said, "The tyranny of distance and the harsh Arctic climate pose significant challenges to agencies charged with providing maritime safety and security to all Americans, including the hundreds of villages and thousands of seasonal workers in the U.S. Arctic."
Maritime workers rely heavily on the U.S. Coast Guard as first responders, but the Coast Guard also services the maritime economy as a regulatory agency; it is responsible for conducting marine inspections and serving as law enforcement.
"Search and rescue, law enforcement, marine safety, waterways management, and other Coast Guard missions are complicated by the Arctic's dynamic and remote operating environment," Fagan said at the symposium. "The Coast Guard will collaborate with stakeholders to develop new practices and technology to serve the maritime community and manage risk in the region."
The U.S. Coast Guard currently maintains two icebreakers; the Polar Star, the United States' only heavy icebreaker which is located near Antarctica, and the Coast Guard Cutter Healy which is a medium icebreaker on watch in the Arctic. Under the new strategic plan, the U.S. Coast Guard would increase that fleet by adding six new polar security cutters. Due to the warming of the Arctic, areas are no longer self-secured by permanent sea ice, and shorelines have changed dramatically. These new vessels will ensure that the U.S. Coast Guard has a greater presence where needed and access to Polar Regions. It will also ensure a self-rescue capability should a vessel become disabled.
"Changes in regional geopolitical competition, economic drivers, and the physical environment prompted our Coast Guard leaders to take a fresh look at our existing missions, activities, and strategic objectives in the Arctic," Fagan said. "We are releasing it four years early in recognition of the accelerated security, economic and environmental trends in the region, and the resulting demand for U.S. Coast Guard leadership."
The contract for the new vessels has been awarded to VT Halter Marine of Pascagoula, Mississippi. According to Senior Vice President Robert Socha, the $746 million contract for three heavy polar icebreakers means that the shipyard will hire approximately 450 more workers for a total of 1,300 to complete the initial order. The U.S. Coast Guard and the Navy will jointly oversee the project, and the contract includes options for two additional heavy icebreakers. The contract could potentially be valued at $1.94 billion and keep workers employed until 2027.
"The Polar Security Cutters will support the full range of Coast Guard missions, to include search and rescue, law enforcement, environmental response, and national defense," Fagan said. "This investment will enable America to project presence in the Polar Regions."
In addition to the contracts for new vessels, the U.S. Coast Guard has partnered with DHS Science and Technology Directorate (a division within the U.S. Department of Homeland Security) to launch two miniature cube-shaped satellites into a low-earth polar orbit. This venture, called the Polar Scout Project, will allow the U.S. Coast Guard to better monitor the Arctic by sending data to two ground control stations, one in New London, Connecticut and the other in Fairbanks, Alaska. The satellites are also uniquely designed to detect 406 MHz emergency distress beacons.
"This Polar Scout initiative should provide valuable insight on the process, cost, and feasibility of acquiring and using organic satellites for Coast Guard missions," Fagan said. "We're hoping the use of such satellites may improve communications in the Arctic, assist in monitoring large areas for illegal activity and help to assist mariners in distress."
The U.S. Coast Guard Arctic Strategic Outlook is a roadmap to an innovative future that deals with changing times head-on. "The nation needs a modern, flexible, and innovative Coast Guard to meet the challenge of providing holistic security in the novel and dynamic Arctic maritime domain," Fagan said. "As the Arctic changes, America's Coast Guard will adapt and innovate to be always ready."