Abandoned Fishing Nets as Swimwear, Carpets, and More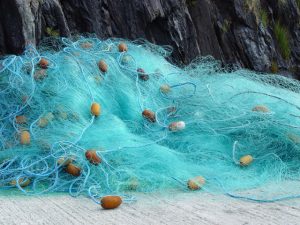 It is estimated that our oceans hold 640,000 tons of discarded fishing gear. This "Ghost Gear" refers to any fishing gear that has been abandoned, lost, or discarded, often due to severe weather and other circumstances. Old nylon nets often end up in landfills, but more likely end up in our oceans where large sea creatures such as dolphins, sea lions, whales, and sea turtles can get tangled. According to a study by the Ellen MacArthur Foundation, there will be more plastic than fish in the ocean by 2050 if we continue to discard plastics, nets, and gear at this rate.
Under the Healthy Seas initiative, organizations and companies are working together to come up with innovative ways to recycle this cast-off plastic and nylon material to create usable and sustainable apparel, soft goods, and building materials.
Aquafil is an Italian based textile company that recently opened its first U.S. based recycling facility in Phoenix, Arizona. Old carpets and fishing nets are broken down into nylon that is then shipped to their Slovenian processing facility. Through a process called 'Depolymerisation', the Italian firm turns salvaged and collected fishing nets into a unique yarn that can be used to make consumer goods.
Nofir is a Norwegian company that recently collected 24 tons of discarded fishing nets from the oceans of Antarctica. They then disassembled, sorted, and cleaned the nets before sending them to Aquafil's Slovenian facility for processing. For reference, the company reports that one ton of raw nylon net can be processed and made into approximately 26,000 socks. As of last month, Nofir reported that it had collected more than 30,000 tons of fishing nets in Europe, Africa, Asia, the United States, and Antarctica.
Another player in this innovative recycling movement is a Canadian based company called Net Your Problem. The Richmond, British Columbia based recycling center is taking fishing gear and nets and recycling them into raw materials that can be used for clothing, skateboards, cell phone cases, and soda bottles.
Net Your Problem was started by Nicole Baker, a former fisheries observer who is also a research assistant at the University of Washington in Seattle. She saw firsthand the adverse effects of these rouge nets and set out to create a system for recycling these materials. Collection of cast-off nylon trawl nets and commercial fishing line began in Dutch Harbor, Alaska two years ago, and the Kodiak community has now joined the collection effort.
Fishing nets can weigh between 5000 and 25,000 tons, and the cost to dispose of them in landfills after they have outlived their usefulness can be anywhere from $300 to $500 per ton. Between Dutch Harbor and Kodiak, 300,000 pounds of fishing nets and commercial fishing line has been sent to recycling centers in Europe. Baker hopes to hear from other communities in Alaska that would like to join the program. Gear and nets that contain lead or leaded lines are not accepted for recycling at this time.
Another player in this recycling effort is a Finnish company called The Other Danish Guy. Started by Tommi Lähde, a marketing consultant who wasn't on a quest to create the worlds most comfortable underwear, he stumbled onto this idea while traveling with a friend in New York. It turns out that after those nylon nets have been recycled, the resulting fiber is not only soft and comfortable but fast drying. The Other Danish Guy came up with a custom weave trademarked as "Smoothshell" and the rest is history.
"It was a no-brainer," said Lähde in a recent interview. "We want to be a brand who gives something back. We will make all of our future products from materials that are sustainable and eco-friendly."
With worldwide demand for recycled and sustainable products on the rise, collection communities, recyclers, and manufacturers may be one step closer to combatting one of the biggest threats to the health of the world's oceans.