Yacht Attessa IV Involved in Fatal Collision with Fishing Vessel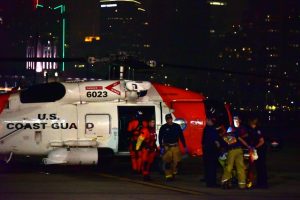 A yacht and a sport-fishing vessel collided on Friday night about nine miles off the coast of Imperial Beach, California near the U.S. and Mexico border. Several people were injured, and one man has died from injuries sustained in the collision.
According to the San Diego County Medical Examiner's Office, Richard Neff, age 66 of San Clemente, California was pronounced dead approximately four hours after the crash. Mr. Neff was injured just before 6 p.m. when the 322-foot "superyacht" ATTESSA IV collided with the PROWLER, a 65-foot San Diego based charter sport-fishing vessel owned by Andrew Viola, Markus Medak, and Drew Card.
According to the U.S. Coast Guard, 29 people were aboard the PROWLER at the time of the collision, which resulted in multiple injuries and extensive damage to the starboard side of the fishing vessel. A Coast Guard Sector San Diego MH-60 Jayhawk helicopter crew and a Coast Guard Station San Diego 45-foot Response Boat-Medium crew were dispatched. The Coast Guard Cutter Sea Otter was also diverted to assist.
The Jayhawk crew hoisted the critically injured Neff and transferred him to awaiting EMS. He was then transported to UC San Diego Medical Center-Hillcrest. Despite all efforts, he was pronounced dead at 10:24 p.m.
The Response Boat-Medium transferred 17 of the PROWLER passengers (2 reporting injuries) to Sector San Diego. The remaining ten passengers were transferred to the ATTESSA IV and were transported to San Diego. The captain of the PROWLER remained aboard the vessel, awaiting a commercial salvage crew. According to maritime traffic tracking, the ATTESSA IV is currently docked in San Diego.
The 332-foot superyacht is owned by 84-year-old billionaire Dennis Washington of Montana. Forbes lists Mr. Washington as the 88th richest person in America with a net worth of $5.8 billion. The ATTESSA IV is valued at over $250 million.
It is not clear why the collision happened, but the Coast Guard is asking why there seemed to be no warning before the collision. Both vessels were equipped with radar systems that would have detected and warned the captains and crew of another vessel nearby. The incident is under investigation by the U.S. Coast Guard.
With all the warning systems available to vessels, this is an accident that could have been avoided and never should have happened. Stacey and Jacobsen will continue to follow this investigation and keep you informed.