85 F/V American Triumph Workers Test Positive For COVID-19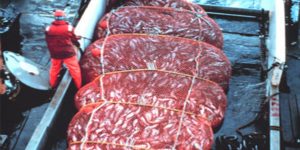 The F/V AMERICAN TRIUMPH remains docked after Eighty-five crew members have tested positive for COVID-19. The factory trawler left Oregon headed for Alaska on June 27th carrying 119 workers. It was reported that two weeks after the ship departed, seven workers reported feeling ill and were tested for COVID-19 in Unalaska. Six of the seven tests came back positive.
The remaining crewmembers were tested last week, and 79 additional tests came back positive, bringing the total confirmed cases of COVID-19 aboard the F/V AMERICAN TRIUMPH to 85. The 285-foot vessel is part of a fleet of six fishing vessels owned by Seattle-based American Seafoods Group, LLC.
According to the American Seafoods Company website, crew members have been relocated to Anchorage to isolate and quarantine. The company has committed to providing quarantine facilities, daily meals, and accessible onsite medical care. They reported that they will use this time to sanitize the vessel. How or if the ill crewmembers will be compensated has not been reported. There are now 97 confirmed cases of COVID-19 among the population of Unalaska, Alaska, a community of about 4,500 residents. The local health clinic reports only having 3 ventilators available.
When crew members are required to work in close quarters on fishing and processing vessels, keeping the virus at bay becomes exceedingly difficult. According to the Centers for Disease Control and Prevention, worker infection prevention recommendations are based on an approach known as the "hierarchy of controls" and include to following recommendations:
1. Eliminate the hazard or processes (e.g., screen and monitor workers and exclude sick workers from the workplace).
2. Install engineering controls (e.g., modify workstations, use physical barriers and ventilation).
3. Establish and ensure employees follow administrative controls, including implementing appropriate cleaning, sanitation, and disinfection practices, and safe work practices that reduce exposure or shield workers.
4. Use personal protective equipment (PPE), in accordance with the employer's hazard assessment, to protect workers from hazards not controlled by engineering and administrative controls alone.
It was reported that all workers were tested for Covid-19 before boarding vessels and that all crew members were quarantined for a minimum of 5 days, a much shorter period than the recommended 14 days. The company was criticized for not following the 14-day quarantine protocol, and later announced that after COVID-19 outbreaks on three of their six vessels they had adopted the 14-day quarantine.
Stacey and Jacobsen, PLLC will continue to monitor COVID-19 outbreaks within the fishing industry and how company leaders are responding to the needs of workers.