Quarantined North Pacific Seafoods Workers Awarded Settlement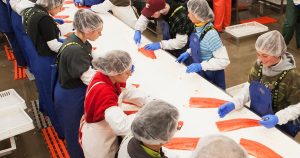 North Pacific Seafoods workers have been awarded a $440,000 settlement after being held for quarantine without pay in a Los Angeles hotel. Stacey and Jacobsen, PLLC first reported the details of this case on July 7th.
Each of the 165 workers who were quarantined is most likely eligible to collect approximately $2,685. That amount will be paid after each worker signs a release to drop further legal action against North Pacific Seafoods. After the workers have been paid, the parties will seek a dismissal.
The workers, who primarily reside in Mexico and Southern California, were hired to work at the North Pacific Seafoods Red Salmon Cannery in Bristol Bay, Alaska. The lawsuit maintained that workers were forced to quarantine in Los Angeles after three members of the team tested positive for COVID-19. North Pacific Seafoods provided no compensation during the quarantine. The lawsuit alleged false imprisonment, nonpayment of wages, failure to pay minimum wages and overtime, negligence, and unlawful business practices.
The hotel provided the workers with only two meals per day. Workers were prohibited from leaving their rooms and denied access to additional food. They were instructed not to use hotel services or order room service. Room keys were deactivated making it impossible for workers to regain access to rooms if they left.
Employers have a duty and a responsibility to protect workers and provide a safe environment during each stage of a worker's contract, including a mandatory quarantine period. While North Pacific Seafoods settled this case before it went to court, we will see more precedent-setting cases. The number of COVID-19 outbreaks in the harvesting and processing industries remains high. These outbreaks are avoidable when best practices are followed and safety precautions are in place. Employers must prioritize worker safety. The CDC offers many recommendations and guidelines for protecting processing workers from COVID-19.
If you are a maritime worker who has been injured, placed in a dangerous situation, or treated unfairly, contact the lawyers at Stacey and Jacobsen, PLLC for a free and honest consultation. The maritime lawyers at Stacey and Jacobsen, PLLC understand Jones Act Law and Maritime Law. They understand how injuries and illnesses happen and how they can be avoided. They are available to represent you in settlement negotiations or in court.