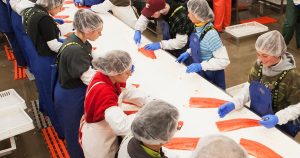 North Pacific Seafoods workers have been awarded a $440,000 settlement after being held for quarantine without pay in a Los Angeles hotel. Stacey and Jacobsen, PLLC first reported the details of this case on July 7th.
Each of the 165 workers who were quarantined is most likely eligible to collect approximately $2,685. That amount will be paid after each worker signs a release to drop further legal action against North Pacific Seafoods. After the workers have been paid, the parties will seek a dismissal.
The workers, who primarily reside in Mexico and Southern California, were hired to work at the North Pacific Seafoods Red Salmon Cannery in Bristol Bay, Alaska. The lawsuit maintained that workers were forced to quarantine in Los Angeles after three members of the team tested positive for COVID-19. North Pacific Seafoods provided no compensation during the quarantine. The lawsuit alleged false imprisonment, nonpayment of wages, failure to pay minimum wages and overtime, negligence, and unlawful business practices.