Alaska company fined $10 million for Jones Act violation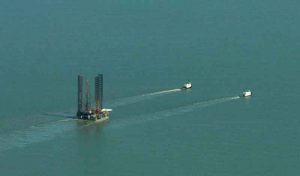 Furie Operating Alaska, LLC ("Furie") has agreed to pay a $10 million civil penalty handed down by the U.S. Customs and Border Protection agency for violation of the Jones Act. The settlement is the largest Jones Act penalty in the history of the Act. The company focuses on the exploration and production of natural gas and oil in the Cook Inlet region of Alaska.
Attorney Bryan Schroder, Acting United States Attorney for the District of Alaska, announced that the company was assessed the penalty after it was found to have transported the Spartan 151 jack-up drill rig to Alaska from the Gulf of Mexico using a vessel sailing under a foreign flag.
Under the Merchant Marine Act of 1920, also known as the Jones Act, cargo moved from one U.S port to another U.S port must be transported by a vessel that is U.S. built, U.S. owned and U.S. crewed. Violation of this law may result in the assessment of a civil penalty equal to the value of the merchandise transported. In special circumstances, a waiver may be requested from the Secretary of the Department of Homeland Security. A waiver may be granted if there is no U.S. vessel available or it is believed to be in the best interest of national defense.
"Resolution of this case demonstrates that the Jones Act will be actively enforced and that an intentional violation will not be rewarded," the U.S. Justice Department said in a press release. "The settlement also provides closure to Furie and is designed not to undermine its ability to bring natural gas to market in Southcentral Alaska."