Biologists Forecast Massive Sockeye Salmon Run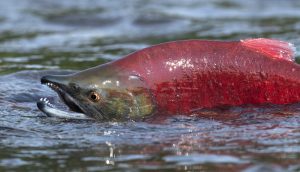 Alaska biologists have forecasted another massive run of sockeye salmon this summer in Bristol Bay. Processors are being urged by the Bristol Bay Regional Seafood Development Association to gear up for the surge. It has been found that boosting capacity helps returns on future runs.
According to state records, 66 million salmon returned to Bristol Bay last year and approximately 40 million were harvested and processed. The Alaska Department of Fish and Game has predicted that more than 75 million salmon will return to Bristol Bay rivers this summer. According to the agency, about 60 million fish will be harvested by commercial fisheries, about 20 million more than last year.
The industry concern is that fishers and processors may not be able to keep up. Harvesting and delivering this large quantity of fish means gearing up with workers, and companies have been short staffed. Finding enough workers has been complicated by the COVID-19 pandemic and challenges with the federal H-2B visa program, which is often the source of commercial fishing workers. Last month, the U.S. Departments of Labor and Homeland security committed to adding 35,000 nonagricultural worker visas, in an effort to ease the shortage of tourism and fishing workers.
Brian Gannon, Director of Legislative and Intergovernmental Affairs for United Work and Travel said in a statement that the H-2B visa release is of critical importance to the Alaska seafood industry. He went on to say it would be important to make certain that federal agencies issue visas prior to the biological timing and arrival of salmon.
"With the tourism and fishing season right around the corner, and the economic fallout we have seen from COVID, it is vital to ensure Alaskans have the needed workers to supplement our local workforce," Alaska Sen. Lisa Murkowski said in a March 31, 2022 statement.
Sockeye salmon are a smaller species of salmon that can weigh between 4 and 15 pounds. As the salmon swim upriver to return to their spawning grounds, they take on the distinguished red body color and green head. Males develop a hooked jaw characterized by tiny visible teeth. Sockeye salmon are a favorite among consumers and chefs as they feature a firm bright orange flesh.