Bristol Bay Sockeye Harvest Breaking Records in Alaska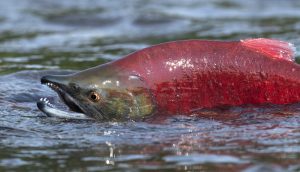 It's sockeye salmon season in Alaska, and for the second year in a row, Bristol Bay is breaking catch records, a trend that is expected to continue as the week goes on.
More than 53.3 million fish had been caught by Thursday, July 14th (the run began on June 1st), and fishing is expected to continue until early August.
According to the Alaska Department of Fish and Game, more than 1,700 drift gillnetters as well as beach-based fishers caught approximately 2.36 million sockeye salmon in a single day.
In order to keep up with the processing of so many fish, it is reported that many workers are pulling 16-hour shifts to produce fillets, roe, headed and gutted fish, as well as other products. Most of these processed fish are flash frozen, then shipped to Seattle for distribution.
According to a statement released on Friday by Alaska Marine Lines, a shipping company based in Seattle, Washington (a subsidiary of Lynden, Inc.), the harvest may soon be limited by shortages of freezer containers and delivery vans. Alaska Marine Lines also stated that they have developed an allocation plan to distribute any remaining containers (and others that may arrive), to the salmon processors of Bristol Bay.
We are more than two weeks into the Bristol Bay harvest, and the sockeye salmon catch continues to hold strong. This species of salmon is smaller and firmer than king salmon, with a deep reddish-orange colored flesh. They generally measure 18 to 31 inches in length and weigh 4 to 15 pounds. Sockeye is very popular among consumers as a delicious and healthful protein.