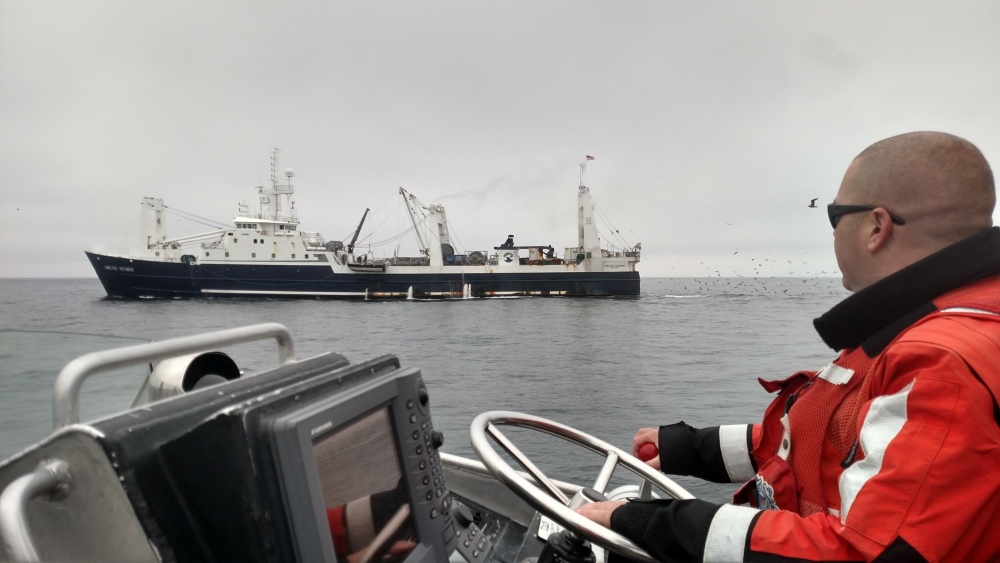 A 64-year-old male was injured after sustaining a blunt force trauma to the face by a loose crane hook. Watchstanders at Coast Guard Sector North Bend received a call at about 9:55am on Monday, October 22nd from the 334-foot F/V ARCTIC STORM. The vessel was located approximately 25 miles west of Brookings, OR at the time of the incident.
The duty flight surgeon recommended an immediate medevac for the injured man, and an MLB crew aboard a 47-foot Motor Life Boat from Station Chetco River was dispatched. Upon their arrival, the injured crewmember was stabilized then transported ashore to emergency medical services. His condition is currently unknown.
Crane hook injuries can be devastating as crane hooks are generally constructed from wrought iron or steel to create a durable device that can bear massive amounts of weight. Commercial fishing boats use cranes, crane hooks, and winches to load and unload supplies, catches, and equipment. Crane hooks can fail, cause injuries and even death due to inadequate maintenance, miscommunication, and lack of signals between the crew. Improper use, inappropriate modifications, lack of training, inadequate inspection of the apparatus, and lifting loads that exceed safe ratings may also cause accidents.