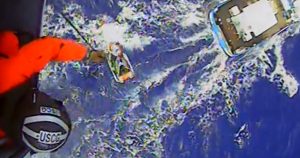 Watchstanders at U.S. Coast Guard Station Yaquina Bay received a distress call from the F/V PIKY on August 4th after a crewmember sustained a serious eye injury and vision loss. The fisherman was reportedly reeling in a tuna when a line slipped, causing a swivel tackle to strike Nathanial Miller, age 24, in the face.
The distress call was relayed to Coast Guard Sector North Bend, Oregon, where a flight surgeon believed it crucial to transport the injured worker to a higher level of medical care as soon as possible.
An MH-60 Jayhawk helicopter crew from U.S. Coast Guard Sector Columbia River as well as an HC-27J Spartan medium-range surveillance aircrew from U.S. Coast Guard Air Station Sacramento in McClellan, California, were deployed.