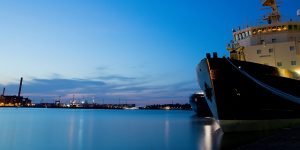 The Jones Act or Maritime Law requires that vessels moving goods between U.S. ports are owned and operated by U.S. citizens or permanent residents. Vessels are also required to be built in the U.S. by companies owned and operated by U.S citizens or permanent residents. The Jones Act requires that the steel used in the construction of a vessel be domestic, and that no more than 1.5 percent of the vessels "steel weight" be foreign processed. So, what happens when a vessel exceeds the limit? This is exactly what happened when Dakota Creek Industries, a 44-year-old family owned shipbuilding company in Anacortes, Washington, self-reported that the F/V AMERICA'S FINEST had indeed exceeded that limit.
The Kirkland, Washington based fishing company, Fisherman's Finest, contracted a Norwegian company to design a new 264-foot trawler for the company. The vessel design required a steel-bending process that is more common and less expensive when fabricated in Europe. Just under 10 percent of the steel for the vessel was formed in the Netherlands. The vessel carries a $75 million price tag.
"Fishermen are key drivers of Washington state's growing economy. We need their boats out fishing, not bogged down by regulations meant for large vessels like oil tankers," said Cantwell.