Watchstanders at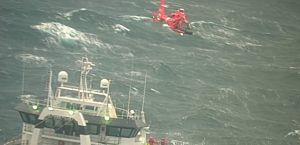 the 17th Coast Guard District command center in Juneau, AK received a medevac request after a crewmember aboard the 262-foot fish processor AMERICA'S FINEST suffered serious foot injuries.
The request is reported to have come from the vessel's master at approximately 2:30am on Thursday, March 17th. The vessel was located about 20 miles west of St. George Island at the time of the incident.
A US Coast Guard MH-65 Dolphin helicopter crew was deployed while the AMERICA'S FINEST vessel traveled toward Dutch Harbor. An HC-130 Hercules airplane crew from Air Station Kodiak was also launched to provide additional support. The injured worker was hoisted at approximately 12:52pm, then flown to Dutch Harbor where LifeMed personnel were waiting.