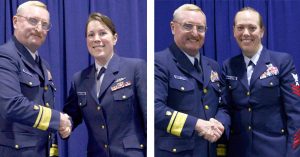 We are pleased to report that the Coast Guard has named Tara Dodd 2016 active-duty enlisted person of the year and Nicole Cimino 2016 reserve enlisted person of the year for the 13th Coast Guard District.
Tara Dodd, Petty Officer 1st Class, is an active-duty culinary specialist assigned to the Coast Guard Cutter SWORDFISH. She has been described as a motivated self-starter who epitomizes sound leadership with her unique ability to instill confidence in others, and for her attention to detail, empathy, and mentorship. She is a respected leader, and through her own initiative has qualified for three additional special unit certifications. Dodd spends her off-duty time assisting a World War II veteran in the maintenance of his home and volunteers at the local Red Cross Home Fire Campaign, inspecting and replacing smoke detectors in local retirement facilities.
Nicole Cimino is the Lead Reserve Petty Officer of the armory at PSU 313 in Everett. Cimino supervises maintenance, training and range operations as well as maintaining the weapons qualifications for the 159 members assigned to the unit. Cimino has also served as a Level I trauma center nurse, where she has saved more than 1,000 seriously injured and critically wounded people. In addition to these accomplishments, she has led an armory team that exceeded Navy standards and received honors.