Coast Guard Medevacs F/V GOLDEN ALASKA Crewmember Near Cold Bay, Alaska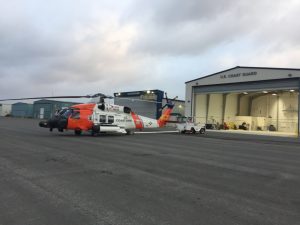 The U.S. Coast Guard "forward deploys" assets to Cold Bay during the winter fishing season in an effort to shave hours off flight times when emergency personnel must respond to situations in the Bering Sea and the Aleutian Islands. Once again, this practice proves prudent.
On Tuesday, January 29th at approximately 11pm, the U.S. Coast Guard 17th District Command Center watchstanders received a call from Health Force Partners with a request for a medevac. A 35-year-old crewmember aboard the F/V Golden Alaska was suffering from severe leg pain and needed medical attention. The vessel was located approximately 40 miles north of the Cold Bay station. Watchstanders directed the launch of a U.S. Coast Guard Air Station Kodiak MH-60 Jayhawk helicopter aircrew, forward-deployed to Cold Bay. The crewmember was hoisted then transported to the Cold Bay clinic. It was reported that he arrived in stable condition.
"Our forward operating locations are critical to mission success in Alaska," said Lt. Jeff Mistrick, a Jayhawk pilot on the medevac. "Alaska has more than 47,300 miles of shoreline and encompasses more than 3.8 million square miles of land that we are responsible for covering. Had it not been for our close proximity to this man, we may not have been able to hoist him as quickly as we did."
Weather at the scene was reported as 2 to 3-foot seas, 12-mile visibility, and 12 mph winds.