Coast Guard Rescues F/V Lodestar Crew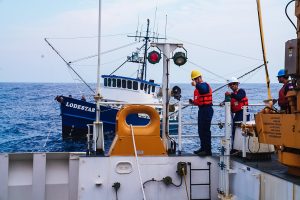 The 66-foot F/V LODESTAR was located about 180 miles off the coast of Coos Bay, Oregon when the vessel lost propulsion and required assistance. Winds were reported as approximately 40-knots with 8-to-10 foot waves while crewmembers were stranded in the stormy seas aboard the disabled vessel.
Watchstanders at the 13th U.S. Coast Guard District command center in Seattle received the call for help at 9:21 p.m. on Friday, September 9th.  The U.S. Coast Guard Cutter STRATTON and crew were diverted, and the cutter arrived on the scene of the disabled fishing vessel at 1 p.m. on Saturday September 10th.
The F/V LODESTAR was placed in tow, then rendezvoused with a 47-foot Motor Lifeboat crew from Coast Guard Station Coos Bay about 45 miles off the Oregon coast. The tow was transferred to the Motor Lifeboat, and the fishing vessel and rescued fishermen were safely transported to Charleston, Oregon.
"I'm extremely proud of this crew," said Capt. Stephen Adler, the commanding officer of Stratton. "They showcased remarkable proficiency and seamanship rescuing these two fishermen, who were subject to the perils of the sea, far from land. Yesterday, the crew certainly lived up to her ship's motto of 'We Can't Afford Not To.'"