Response Continues After F/V Aleutian Isle Sinking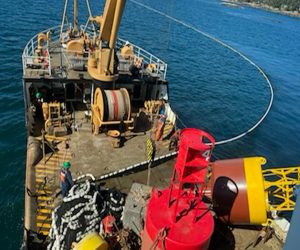 The coordinated response effort continues after the sinking of the F/V ALEUTIAN ISLE just west of San Juan Island, Washington, on Saturday, August 13th. Groups participating in the response include the U.S. Coast Guard, the San Juan Office of Emergency Management, the Swinomish Tribe, and the Washington State Department of Ecology.
Overhead drone and helicopter footage has confirmed that the diesel fuel sheen appears to have dissipated. Beaches along the spill area have also been patrolled, and as of today no fuel spots or sheens have been located along the shore.
"I am proud of the interagency partnership and collaboration at all levels to respond to this pollution threat and minimize environmental impacts," said Cmdr. Jon Ladyga, Federal on Scene Coordinator. "While optimistic about the on-water and shoreline assessments, we recognize that critical work remains"
Areas from Kanaka Bay to the northern point of Henry Island have been surrounded by over 3,800-feet of absorbent boom material. Booming will continue during this complicated operation as a precautionary measure.
The 175-foot U.S. Coast Guard Cutter HENRY BLAKE was diverted to the area to recover a seine net that was floating near the wreckage site. Another net was found about 100-feet below the water surface and removed in panels by a dive team. Nets such as these present ecological hazards and removing them from the area is a priority.
The F/V ALEUTIAN ISLE wreckage was initially estimated to be at a depth of 100-feet. It has been discovered that the vessel is actually approximately 200-feet below the surface, which poses additional dangers for divers. Not only is a decompression chamber required at these depths, but divers must use a special gas mix. Currents at this depth can also be swift, presenting additional dangers to divers.
The U.S. Coast Guard is making use of a Remote Operated Vehicle (ROV) to gather information regarding the condition of the F/V ALEUTIAN ISLE. This provides divers and other responders with information that could be important before they encounter the wreckage. A 1,000-yard safety zone has also been established, and vessel traffic continues to be monitored and managed near the area.
"We would encourage fisherman to avoid catching fish in areas where sheens are observed," said State on Scene Coordinator, Dave Byers, of the Dept. of Ecology. "Thankfully with the dissipation of all visible sheening today, there should be no impacts to salmon fishing."
The Washington Department of Ecology has created a special website for this incident that can be accessed at ALEUTIAN ISLE SINKING. New developments will be posted on the site as well as on U.S. Coast Guard news and social media sites.