F/V Aleutian Isle Sinks, Causing Pollution Incident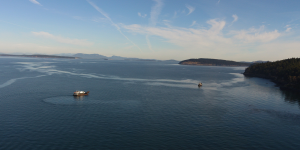 On Saturday, August 13th watchstanders at U.S. Coast Guard Sector Puget Sound were notified that a fishing vessel located off the west coast of San Juan Island was taking on water and in need of emergency assistance.  An Air Station Port Angeles MH-65 Dolphin helicopter, a Station Bellingham 45-foot Response Boat-Medium, and the 87-foot Coast Guard Cutter Swordfish were launched in response to the plea for help.
By the time the U.S. Coast Guard arrived on the scene, the 49-foot F/V ALEUTIAN ISLE had capsized and sank. According to eyewitnesses, the boat went down quickly in just a matter of minutes. In a statement issued by the U.S. Coast Guard, the five crewmembers aboard the fishing vessel were rescued by a good Samaritan.
After it was determined that all five crewmembers were accounted for, attention turned to the pollution impact and a survey was initiated. By 5 p.m. just a few hours after the sinking, a 1.75 mile fuel sheen was observed. It is estimated that the vessel was carrying about 2,600 gallons of diesel and oil at the time of the incident.
"After the fishing vessel Aleutian Isle sank in the vicinity of Sunset Point, a sheen was observed spanning more than two miles and was reported to have entered Canadian waters during the evening hours," said the US Coast Guard, which is in charge of the response.
Approximately $130,000 has been secured for the salvage operation and commercial pollution response. Funding comes from The National Oil Spill Liability Trust Fund to support contractors who are working to minimize the impact of the spill as the incident took place near sensitive shoreline areas. By Sunday, August 14th, absorbent booming had been placed in the area. An investigation into the cause of the vessel sinking is ongoing.
Due to the proximity of the vessel to the Canadian border, the Canadian Regional Operation center is working in conjunction with the U.S. Coast Guard, the Washington State Department of Ecology, the Island Oil Spill Association, and the San Juan County Office of Emergency Management.
"We are working with government and industry partners to ensure an efficient and effective containment and recovery response," said Lt. Cdr. Brian Dykens, Sector Puget Sound Incident Management Division Chief. "The local public, the environment and protected marine species are our top priority."
The National Oceanic and Atmospheric Administration (NOAA) is working with the U.S. Coast Guard as well as Sound Watch and the Whale Museum in Friday Harbor to locate and monitor resident whale pods in the area.
This is an ongoing investigation and salvage operation.