Washington Ferry Cathlamet Crashes into Pilings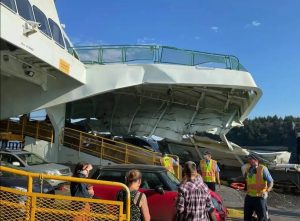 The U.S. Coast Guard from the Puget Sound sector was deployed on Thursday morning, July 28th at about 8:20 a.m. after the Washington State Ferry CATHLAMET crashed into the pilings near the West Seattle Fauntleroy dock. It is reported that the vessel had veered off course and was coming in too fast at the time of the crash. One car was reported to be pinned inside the ferry after the top side section of the ferry crumpled from the impact.
The U.S. Coast Guard is leading the investigation along with the National Transportation Safety Board to find the cause of the crash. As is standard procedure in cases like this, all crew members were tested for drugs and alcohol. It is reported that those tests came back negative.
A narrow steel deck on the vessel called a "pickle fork" was destroyed during the crash. This is the part of the vessel that extends over the car deck, the place where many walk-on passengers stand for a great view, or to exit the vessel via an elevated walkway.
The damaged ferry CATHLAMET is currently at the Eagle Harbor maintenance facility on Bainbridge Island, WA. The vessel will undergo additional inspections for insurance claims, and investigators will try to determine whether the accident was caused by mechanical problems or human error. The vessel will also be repaired at this facility, which is likely to take several months.
The offshore group of pilings near the pier that the CATHLAMET hit and damaged is called a "dolphin". Dolphins usually consist of a cluster of pilings that have been driven into the seabed. They are then connected to one another to provide a fixed point.  Dolphins are used to guide ferries into the docking area, and also used to keep vessels steady during rough weather.
It is reported that the captain of the ferry CATHLAMET resigned after the incident.
While the CATHLAMET is out of commission, ferry capacity throughout the Puget Sound region may be reduced. In addition, the maritime industry on a whole has fallen victim to the same types of personnel shortages found in other industries throughout the United States. Millions of Pacific Northwesterners and tourists use the ferry system each year. According to the Washington Department of Transportation, more than 17 million riders were reported to have used the ferry system in 2021, making it the largest in the U.S. and the third largest in the world.