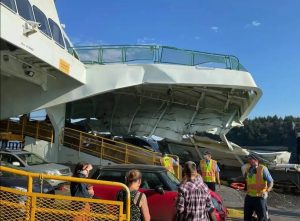 The U.S. Coast Guard from the Puget Sound sector was deployed on Thursday morning, July 28th at about 8:20 a.m. after the Washington State Ferry CATHLAMET crashed into the pilings near the West Seattle Fauntleroy dock. It is reported that the vessel had veered off course and was coming in too fast at the time of the crash. One car was reported to be pinned inside the ferry after the top side section of the ferry crumpled from the impact.
The U.S. Coast Guard is leading the investigation along with the National Transportation Safety Board to find the cause of the crash. As is standard procedure in cases like this, all crew members were tested for drugs and alcohol. It is reported that those tests came back negative.
A narrow steel deck on the vessel called a "pickle fork" was destroyed during the crash. This is the part of the vessel that extends over the car deck, the place where many walk-on passengers stand for a great view, or to exit the vessel via an elevated walkway.