Cruise Ships Continued to Sail After COVID-19 Deaths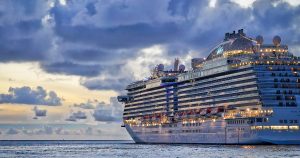 We will never know exactly how many passengers and crew have been infected with COVID-19 while on cruise ships. What we do know, is that Carnival Cruise Lines plans to resume its cruise operations on August 1, 2020. Before the COVID-19 pandemic, it is estimated that 30 million passengers traveled on a total of 272 cruise ships within the year (worldwide total).
According to information posted on the Carnival website, eight ships will be put back into service in late Summer. As of this posting, they include the Carnival Dream, Carnival Vista, Carnival Horizon, Carnival Magic, Carnival Sensation, Carnival Breeze, and Carnival Elation. Ports of departure include Galveston, Texas; Miami, Florida; Orlando, Florida; and others.
Carnival spokesperson Vance Gulliksen said that the reopening of cruise ships "is fully dependent on our continued efforts in cooperation with federal, state, local, and international government officials. In our continued support of public health efforts, any return to service will also include whatever enhanced operational protocols and social gathering guidelines that are in place at the time of the resumption of cruise operations."
Congress has launched an investigation into how Carnival Cruise Line responded to the coronavirus. There is speculation that two ned by the organization violated federal law when they failed to report that ill travelers had left their ships in San Francisco and Puerto Rico. Ships approaching U.S. ports are required to report outbreaks of illness to the U. S. Coast Guard. The rules are specific, defining a fever as "a temperature of 100.4 degrees Fahrenheit or higher, as well as anyone who reports feeling feverish."
As early as February 28, 2020, cruise lines knew they had a virus problem, and extra cleaning procedures were initiated. However, many cruise lines continued their operations, and several passengers report that they were not told about illnesses onboard their ships. Many may have contracted the COVID-19 disease aboard ship, experienced few symptoms, and unknowingly spread the virus to their communities. The CDC estimated that on March 13, 2020, it could link about 17% of U.S COVID-19 cases to cruise ship passengers.
On March 13th, the Cruise Lines International Association also announced the voluntary cancellation of all future cruises for member companies. The next day, the CDC issued a no-sail order for cruise ships traveling in U.S. waters. The no-sail order terminated only voyages not yet launched; the CDC estimates that as many as 250,000 people were still aboard up to 120 vessels, even after the confirmed deaths of cruise passengers due to complications of COVID-19.
Princess Cruises' Diamond Princess was the first cruise ship to have a major outbreak on board. The ship was quarantined at Yokohama beginning February 4 for more than 4 weeks. More than 700 people became infected, and 12 people died. As the world watched this tragedy unfold, the ship accounted for over half the reported cases of COVID-19 outside of Mainland China.
Governments and ports responded by preventing many cruise ships from docking and advising people to avoid traveling on cruise ships. Similarly, several cruise lines suspended their operations to mitigate the spread of the pandemic long before the no-sail order was issued.
As of May 2, over 40 cruise ships have had confirmed positive cases of coronavirus on board. As the coronavirus spread across the world in early 2020, people found themselves in what is now thought to be one of the most dangerous places during a pandemic, the close quarters of a large passenger ship.
On May 8, the U.S. Coast Guard estimated that 70,000 crew members aboard approximately 100 ships were still stranded on vessels traveling back to a port or docked and under quarantine. The treatment of stranded crew members is now becoming an urgent concern for cruise line employees and their families. Although anxiety about containing the coronavirus and public safety are obviously central to this unfolding story, so are the lives of crew members. The CDC is closely following the issue. We will continue to monitor the situation.